Argan oil is made from nuts of argan trees, which are found in an area of Morocco. People often use argan oil for beauty purposes, especially for skin and hair beauty.
Moreover, this natural oil is the main ingredient in many beauty products. Apart from beauty benefits, regularly taking argan oil also aids you in preventing various types of cancer, cardiovascular diseases, and obesity. It is also loaded with vitamin A, E, linoleic acid, antioxidants, and other minerals, all of which are good for healthy skin and hair. Now, we will show you the top 10 incredible benefits of argan oil for hair and skin. Keep reading to know in details about the benefits of argan oil. .
1. Remove Oily Skin Discomforts
The first beauty benefit of argan oil is to remove oily skin discomforts.
Those having oily skin often experience blind pimples, blackheads, whiteheads, and various skin irritations caused by the buildup of excess oil on the outer layer of their skin. Argan oil has a chemical composition which is similar to sebum in nature on your skin. Thus, it will trick your skin into thinking that the skin already has an adequate amount of oil, thereby helping inhibit sebum production. You may use argan oil to aid in controlling the excess oil production from your sebaceous glands. [caption id="attachment_11195" align="alignnone" width="700"]
Via: Pexels[/caption]
After rinsing and patting your face dry, let rub some argan oil on your skin.
You should apply this twice on a daily basis to ease the excess oil on the skin and shrink your large pores.
.
2. Fight Acne And Acne Scars
If you are suffering from acne, argan oil will help you deal with this problem. Thanks to the antioxidant property, argan oil can heal damaged cells of your skin. Besides, it is loaded with a high content of linoleic acid, which can help to reduce inflammation-causing acne. Additionally, the non-greasy texture of argan oil will maintain the skin moisture in a balanced manner and aid in fading scars.
To use it for acne, you dab a thin layer of argan oil on your acne skin.
Let it on for half an hour before using a tissue to wipe it off.
You should apply this remedy twice daily.
Another choice with argan oil is to mix it with the same amount of tea tree oil.
Then you apply this oil mixture to your acne skin areas. Wait for 7 to 10 minutes and use warm water to cleanse it. Remember to use this twice a day until your skin becomes brighter without acne and acne scars. .
3. Promote Hair Growth
[caption id="attachment_11196" align="alignnone" width="700"]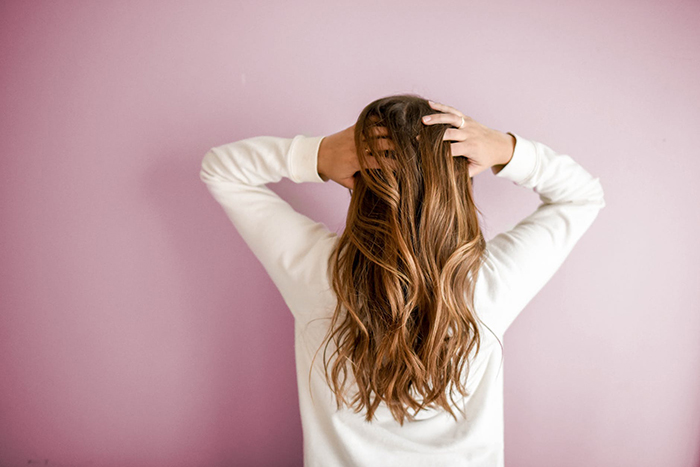 Via:
Pexels
[/caption] If you are finding a natural way to stimulate hair growth, argan oil is a good choice.
This natural oil can aid you in stopping hair loss and encouraging the growth of new hair. This liquid gold is packed with vitamin E and healthy fats, which will provide hair follicles with nourishment. Plus, argan oil will keep your scalp clean, remove dandruff, and smoothen your dull hair.
You make your hair wet and then massage your hair and scalp gently in circular motions using warm argan oil.
Massage for about 7 to 10 minutes and let it stay overnight.
Shampoo your hair thoroughly in the next morning
Do this thrice weekly.
.
4. Moisturize Cuticles
Another benefit of argan oil is to moisturize cuticles. It contains vitamin E which is very beneficial for brittle and weak nails. Moreover, this oil assists you in repairing damaged nails as well as encouraging nail growth. Additionally, it will keep fungal nail infections at bay.
You rub a bit of argan oil directly on nails and massage gently for 3 - 5. You should use argan oil as a natural cuticle moisturizer every day before bedtime.
Also, you can mix argan oil with the same amount of fresh lemon juice. Then soak your nails in this mixture for 17 to 20 minutes. It will help to strengthen your nails if you try to apply it once or twice weekly.
.
5. Treat Cracked Heels And Dry Feet
[caption id="attachment_11197" align="alignnone" width="700"]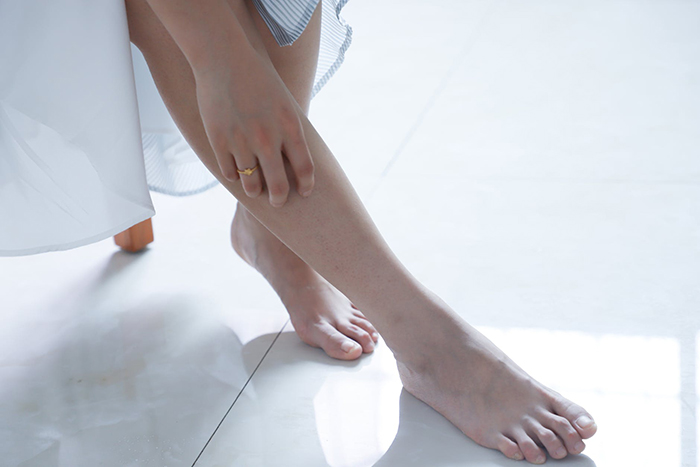 Via:
Pexels
[/caption] The fifth benefit of argan oil is to get rid of cracked heels and dry feet. The hydrating property of this oil acts as a natural heel softener, which can nourish your heels and feet; thus it makes them supple and soft.
It may also aid in easing pain related to cracked feet as well as keeping infections at bay.
To use argan oil for treating cracked heels and dry feet, you firstly soak your feet directly in the warm and soapy water for 12 to 15 minutes.
Then you use a pumice stone to exfoliate your heels and feet.
Next, rinse your feet with lukewarm water and use a towel to dry them thoroughly.
Now, you put some argan oil on your hand palms and massage the soles and heels for a while.
After that, you wear clean socks and let them stay for at least 25 minutes.
Do not forget to repeat this every day for several days till your feet become more healthily and the cracks disappear entirely.
.
6. Act As A Natural Powerful Hair Conditioner
Thanks to the rich content of oleic and linoleic acids, argan oil will ensure you healthy and glossy hair. Additionally, this natural oil is capable of protecting your hair from being damaged due to chlorine from the swimming pools and sun exposure. It may even have the ability to repair tame frizzy hair and split ends. You use some warm argan oil to gently massage your hair and scalp for 7 to 10 minutes. Then you keep it in place for half an hour by wearing a shower cap. Finally, use your favorite shampoo to wash it. Remember to do this routine thrice per week. Note: Avoid applying this oil daily on the hair because it is difficult to rinse off. .
7. Moisturize Chapped And Dry Lips
The moisturizing property of argan oil will keep your lips supple and soft. Plus, it possesses antioxidant properties, which help to protect your lips from being damaged and keep soreness at bay.
.
8. Ease Premature Aging Signs
[caption id="attachment_11198" align="alignnone" width="700"]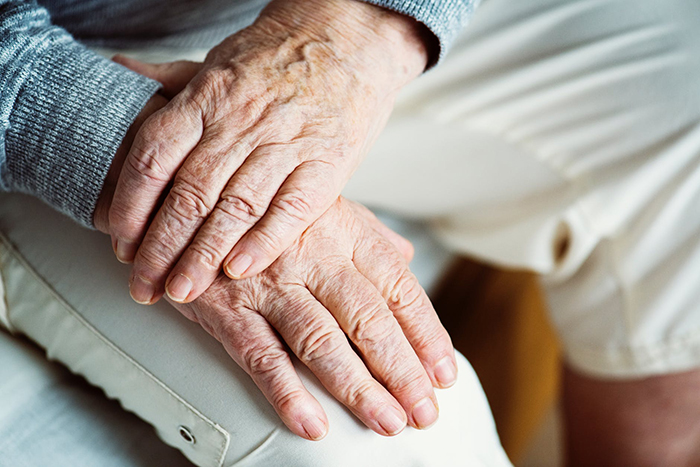 Via:
Pexels
[/caption] Thanks to the rich content of fatty acids, argan oil will help combat free radicals and improve the elasticity of your skin; thereby preventing premature aging signs such as age spots, wrinkles, saggy skin, and fine lines.
Besides, argan oil has antioxidants which aid in reversing aging signs as well as keeping your skin younger for ages. It may even prevent UV rays of the sunshine and oxidative in environmental pollution from damaging your skin. To enjoy this benefit, you massage your face skin with some argan oil for 3 - 5 minutes every day before sleeping. Also, you can add argan oil to your daily meals. .
9. Lighten Stretch Marks
Now, you may easily lighten your ugly stretch marks by regularly using this natural oil. Argan oil is loaded with vitamin E, which protects your skin collagen fibers from being damaged by free-radical. This, in turn, assists you in improving your skin elasticity as well as maintaining your skin moisture.
This is one of the most fantastic benefits of argan oil for skin.
Take some warm argan oil drops and gently rub them on the stretch mark areas.
Use your hands to massage for 7 to 10 minutes and keep it in place for half an hour.
Finally, use warm water to rinse off.
You should massage your skin with this oil daily for several months until all the marks fade and disappear altogether.
You may even rub your stomach, breasts, thighs, and bottom with this oil during pregnancy to aid in preventing unsightly stretch marks.
.
10. Nourish Dry Skin
This is the best beauty benefits of argan oil. This oil has fatty acids, which are easily absorbed into your skin to save the deficiency of moisture. Additionally, argan oil is non-irritating and non-greasy, making it a natural and powerful moisturizer for numerous skin types. Besides, the anti-inflammatory property of argan oil is beneficial for conditions such as psoriasis and eczema, which cause dry and rough skin.
To nourish your skin, you dab a few drops of warm argan oil into the skin after bathing. You may also apply it as a natural moisturizer at night to help your skin smooth and soft.
Also, you can make a homemade hydrating mask with this oil by mixing argan oil with one tablespoon of honey and three teaspoons of yogurt.

Then, apply this mixture to your face, wait for 7 to 10 minute, and rinse it off for the final step. Remember to use this mask once weekly.
.
Tips & Precautions
There are two argan oil grades, cosmetic and culinary. You should opt for the cosmetic type if you want to use it for hair and skin care.
Always choose fresh and good quality argan oil, which is clean and light along with nutty odor.
Remember to store this oil in a dark jar or bottle to prevent it from contacting any light type.
Avoid using argan oil if you suffer from nut allergies.
Above are top 10 beauty benefits of argan oil for skin and hair.
After reading this article, get an argan oil bottle and use it to improve your beauty instead of buying expensive cosmetics. It is not cheap, but it can provide you with perfect elegance. Author Bio: This guest post is by Emily Pham, a blogger with many years of experience in searching for the best natural home remedies for beauty and health issues. All content provided is for informational and educational purposes. We recommend you consult a healthcare professional to determine which method is appropriate for you..