Having the proper equipment is essential for a runner's comfort and efficiency. Sunglasses are an often-overlooked accessory that may make a big difference.
In this piece, we'll go over what to look for in a decent pair of running sunglasses and why sunglasses are widely used by runners worldwide.
What to Look for When Choosing Running Sunglasses
Running sunglasses protect your eyes from damaging UV rays, whether you're a beginner or a veteran. Sunglasses minimize glare and improve jogging. Below are running sunglasses-buying tips.
The Importance of UV Protection
Wearing sunglasses that block out UV rays is a must for any outdoor activity. Find some shades that will block out harmful UVA and UVB radiation.
Eye diseases, including cataracts and macular degeneration, are preventable by wearing UV-protective eyewear outdoors for extended periods. Goodr sunglasses will protect your eyes from harmful UV rays as you run.
Lens Technology and Tint Options
Having the right lens technology can make running a lot more fun. Polarized glasses reduce glare, especially when running in bright light or near water. Also, choose lenses that can withstand light hits and scratches. Goodr Polarized sunglasses cut down on glare, ensuring clear focus and minimal distractions.
Lightweight and Comfortable Fit
When running, you want glasses that don't feel like they're there. Look for lightweight frames and comfortable nose pads to ensure your glasses fit securely and snugly without hurting your face or leaving marks on them.
Good running sunglasses are easy to carry, which makes them perfect for long runs. Their flexible frames and soft nose pads make them easy to wear so that you can focus on your performance.
Anti-Slip Features
Since running keeps you moving constantly, it's important to choose sunglasses with anti-slip features so they don't slide down your nose. Look for rubberized nose pads and temple grips that will stay in place even when you're sweating. Sunglasses with non-slipping technology will remain in place no matter how hard you run.
Style and Versatility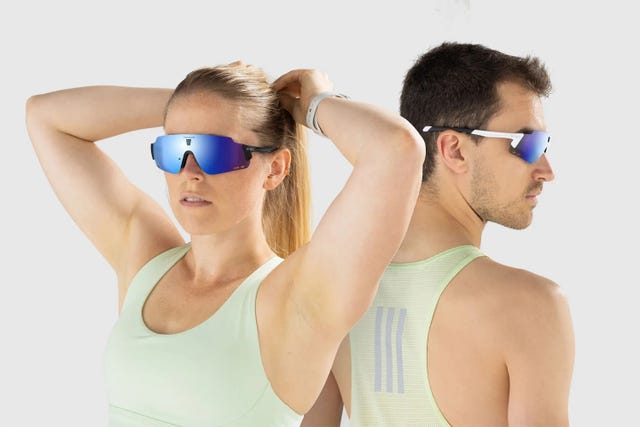 Even though utility is essential, style is just as vital. Sunglasses for running can be a fashion statement that goes with the rest of your running gear. Choose a pair that fits your style and comes in various colors and patterns so you can find something you like.
Style-based sunglasses come in many fun and colorful forms that let you show off your personality while getting the benefits of high-performance eyewear.
Choose the Best Running Sunglasses
Selecting the right running sunglasses requires careful consideration of various factors, from UV protection and lens technology to comfort and style.
With superior UV protection, polarized lenses, lightweight design, anti-slip features, and stylish options, goodr sunglasses provide the perfect blend of functionality and fashion.
Remember, investing in a quality pair of running sunglasses enhances your performance and protects your eyes from potential damage. So, equip yourself with a reliable pair of good sunglasses and hit the road with confidence and style!