Imagine stepping off a bustling, stress-filled plane and instantly immersing yourself in the calming, healing embrace of thermal waters. Sounds like a far-off dream? Not when you're in Budapest, the undisputed Spa Capital of the World!
With its grandeur of history, culture, and hospitality, this enchanting city isn't just your regular vacation spot — it's a haven for tranquility seekers. Budapest has a history of incredible communal baths going back to the Romans, making it the ideal location if you're looking for a city that's ripe for adventure and relaxation.
1. Leave Your Baggage Behind
Before we dive into the warm, healing waters, let's tackle the initial conundrum everyone has to face when they're looking to relax and refresh themselves … leaving their baggage behind. But in this case, we're talking literally about your luggage.
Budapest is often visited as part of a multi-city tour or over a weekend, and it can be a real pain to tote your luggage around, especially if you also have to keep your bathing suit and other spa-ready items at the ready. Luckily, luggage storage in Budapest isn't a problem. Actually, it's a solution!
Numerous services around the city specialize in stashing your stuff, allowing you to roam freely without the constraints of a heavy suitcase. Conveniently located near transportation hubs and popular spots, these storage facilities are secure, affordable, and incredibly easy to use.
2. Start With the Icons
Now that you're baggage-free, it's time to dip into the city's iconic thermal baths. The Romans discovered the city's hot springs over 2000 years ago, and it has since transformed into a thriving thermal spa culture. The crown jewels among these are, of course, Széchenyi and Gellért. While there are other baths to choose from in Budapest, start your relaxing journey with the icons.
Thanks to its 18 pools and grand Neo-baroque architecture, Széchenyi is like stepping back in time, all while soaking up the curative waters. On the other hand, Gellért offers an Art Nouveau charm with its intricate mosaics and stained glass windows. And let's not forget the stunning view of the Danube from its open-air pool.
3. Know Your Spa Etiquette
Budapest has its unique spa etiquette that's as warm and welcoming as its waters. Here are a few quick tips: nudity isn't the norm, so bring your swimsuit. Shower before entering the pools, and keep the noise level low to maintain a tranquil atmosphere.
Also, don't forget to drink plenty of water. It's easy to get dehydrated, especially if you spend all day in the warm waters.
4. Plan Your Spa Day Strategically
Now that you're brimming with anticipation, let's get to the nitty-gritty — planning your spa day. The best time to visit the spas? We'd recommend going during off-peak hours, such as weekday mornings, to avoid the crowds.
While most of the city's spas are reasonably priced, some offer special discounts at certain times of the day or week. Be sure to check their websites beforehand. And remember, location and amenities matter too. So, choose a spa that's convenient for you and aligns with your specific relaxation needs.
5. Pack Appropriately for Your Spa Vacation
The essentials include a bathing suit, a towel (though many spas provide them for a fee), flip-flops, and a bottle of water for hydration. You may also want to bring a book or magazine for lounging by the pool.
6. Go Beyond Budapest's Spa Scene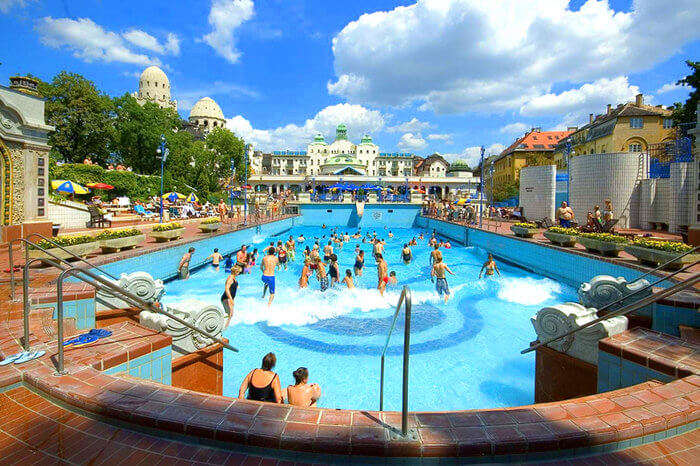 Budapest isn't just about its thermal baths. You can unwind in myriad ways in this beautiful city. Ever tried yoga by the tranquil Danube River? Or how about a peaceful stroll through Margaret Island, where you can forget you're in the middle of a bustling European capital? The options are as varied as they are plentiful.
In addition to relaxing, you can find rejuvenation in some incredible sightseeing by touring Budapest's many architectural wonders and lively markets. There are also some excellent museums and noteworthy churches and mosques that are worth a visit.
And when it comes to food, Budapest has got your wellness needs covered. The city is dotted with plenty of health-food places offering fresh, local produce. While you're at it, don't forget to sample a bowl of traditional Hungarian goulash — it's comfort food at its best!
Budapest: Where Relaxation and Adventure Meet
With your luggage safely stowed away, you're ready to take on the Spa Capital of the World. From thermal baths to yoga by the Danube, Budapest is a city that invites you to relax, rejuvenate, and rediscover yourself.
This isn't about hurrying from one spot to another. Soak it all in — the waters, the culture, the food, and the city's serene beauty. Because in Budapest, relaxation is not just an activity, it's a way of life.