Life can keep you busy between deadlines, responsibilities, and obligations. Amid the workload, you may end up overlooking your nutritional requirements. It leaves you exhausted and far from your fitness goals. According to CDC statistics, at least 10% of Americans struggle with nutritional gaps.
But you need not worry. You can adopt a few quick and practical tips to stay on track even when time is short and you juggle work, family, or a hectic schedule. With these simple strategies, you can maintain your fitness journey without sacrificing nutrition.
Here are a few actionable tips to reclaim your energy, maximize your gains, and take on the world one bite at a time.
Prepare and freeze healthy meals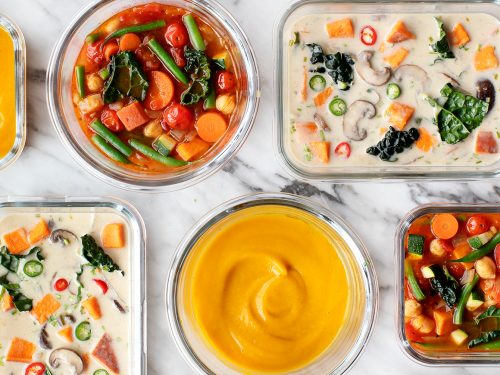 When life gets hectic, meal preparation is crucial to stay on track with your fitness goals. You must set aside some time each week to prepare and portion out nutritious meals for the busy days ahead. Make a batch of brown rice, grilled chicken, and steamed vegetables and freeze them in individual containers.
These frozen meals come in handy when you do not have time to cook from scratch. You can simply microwave or bake one to get a nutritious meal ready in minutes.
Have plenty of ingredients in stock
You can keep the necessary ingredients in your kitchen to avoid last-minute issues. It helps you save your time and energy when hunger strikes during a busy day. You can stock some essential staples in your pantry. Try ordering solo meal kits to add variety to your stock of healthy ingredients. The good thing about solo meals is that they cater to all types of eaters, regardless of their preferences and requirements.
These may include canned beans, whole grains, nuts, and spices. Refrigerate fresh produce, lean proteins, and dairy or dairy alternatives. A well-stocked kitchen equips you with everything you need to make a quick, healthy meal without having to run to the store.
Learn a few easy recipes
You do not have to be a culinary genius to prepare the healthiest meals full of essential nutrients. You can choose a few go-to recipes you enjoy and can prepare quickly without compromising nutrition.
Consider stir-fry, salads, and one-pot pasta dishes. Having a few dependable recipes in your repertoire, even on your busiest days, can make meal planning a breeze.
Know where to order your meals
Cooking is not always a viable option for someone balancing work and home. Why not look for a place where you can order nutritious meals when you do not want to cook? Healthy menu options are now easily available at many restaurants and food delivery services.
Look for restaurants that offer nutritional information or customizable meals. Thus, it allows you to make choices that align with your fitness objectives.
Buy nutritious snacks
Snacking is like a trap for busy people because it often leads to unhealthy decisions. Imagine how easy it is to indulge in crackers or cookies when you are loaded with work. Preventing unhealthy snacking is easy. You can stock up on nutritious snacks to counteract your cravings.
You may choose Greek yogurt, pre-cut vegetables with hummus, or a pack of nuts and seeds. These snacks provide quick energy and help control cravings without hampering your fitness progress.
Prioritize grab-and-go options
Life on the run gets easier if you pick some grab-and-go options for daily meals. You can even store portable, healthy snacks in your bag or car.
Consider a bag of mixed nuts because they aren't perishable, so you can easily store them outside the refrigerator. Having these items on hand ensures that you have a nutritious option when hunger strikes during a busy day.
Speed up with better cooking skills
Improving your cooking abilities can help you save time when preparing healthy meals. You must learn some easy kitchen hacks for cooking, such as chopping vegetables quickly, cooking proteins, and multitasking in the kitchen effectively.
Invest in some handy kitchen tools, such as a good chef's knife or a pressure cooker, to speed up the cooking process. Thus, you can prepare nutritious meals faster and with little effort.
Conclusion
You can maintain a balanced diet and meet your nutritional needs even on the busiest days with these practical strategies. Remember that consistency is essential in your fitness journey, no matter how busy you are. These tips will help you in staying on the right track, regardless of your hectic schedule. You can continue to fuel your fitness goals without sacrificing your health with a little forethought and kitchen savvy.