Those who've been diagnosed with diabetes have to be extra careful with how they care for their feet; this is mainly due to circulation problems that are common with this disease. Even seemingly insignificant problems with the feet, like dry skin or mild swelling, can rapidly turn into serious medical conditions if they aren't properly taken care of. The good news? When it comes to caring for your feet in the wake of a diabetes diagnosis, an ounce of prevention is worth a pound of cure. Exercise has been proven to strengthen circulation, for instance; someone with diabetes would definitely benefit from that.
However, they still have to consider the well-being of their feet. Any kind of rubbing or chafing can snowball into serious foot conditions, especially if neuropathy is present. That's why doctors recommend orthopedic shoes for women and men with diabetes – they're specifically designed to promote healthy, pain-free feet. These types of shoes can be bought in shoe stores, but you'd have to make sure you'd done your research to get the right kind of shoe. Alternatively, you could make your purchase online from shoe stores that specialize in comfortable, well-designed shoes that are suitable for a number of foot-related conditions.
Some people think that highly structured, supportive shoes are the best to preserve the health of your feet (and overall posture), but this isn't actually the case – especially for those with diabetes. Instead, it's best to go for shoes with a bit less structure, and with plenty of cushioning.
Brooks Ghost
This shoe is lightweight and neutral, while still offering sufficient support to the feet. It also has plenty of cushioning, without being bulky or restrictive. This allows it to maximize comfort, even over extended periods of exercise or other activity. As a bonus, they're even available in 2 dozen colors.
Kane Revive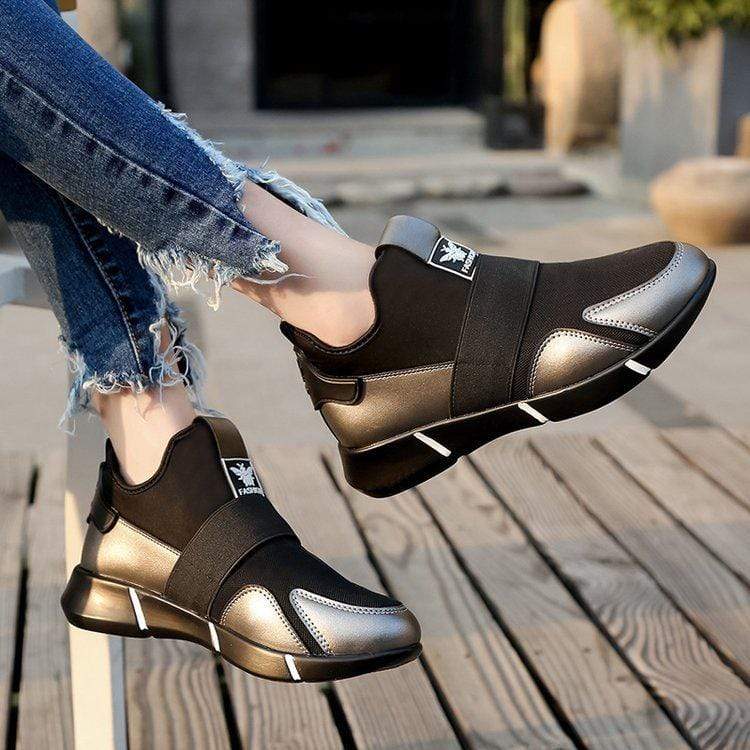 Ironically, these shoes are made from sugarcane. You heard that right – these formerly sugary shoes are perfect for people with diabetes. Made from lightweight but durable foam material, they're perforated for improved breathability and machine-washable to boot. They may not be suitable for intense exercise, but they're just the ticket for casual walking or similar types of activity.
Sketchers Go Walk
Available as lace-ups or slip-ons, these walking shoes come in quite a few different colours. They're more than comfortable as well, providing plenty of room for those with sensitive feet. The design is meant to encourage a natural heel-to-toe gait, which helps maintain balance.
New Balance Fresh Foam 1080
With increased shock absorption and a wide toe box, these shoes are optimal for those with less advanced diabetes. They're both soft and light, with a supportive midsole that avoids putting pressure on any one part of the foot.
New Balance 990
For anyone with diabetes who wants a stabilizing pair of shoes, this is one good option. They're suitable for both men and women and durable enough for regular exercise. These shoes can accommodate various foot shapes, without compromising support.
Best Features In A Shoe For Those With Diabetes
The shoes mentioned above are all solid choices for someone who wants to exercise safely with diabetes, but there are so many other options. If you want to consider all your choices and select one for yourself, here are the features to look for.
Excess moisture can have all kinds of negative effects on the feet, such as encouraging fungal infections. This is why it's recommended to choose shoes that are made with materials that wick away moisture, allow the feet to breathe, or are even perforated for improved ventilation.
Since they're at the furthest point away from the heart, toes are most vulnerable to being affected by circulation issues. When it comes to choosing a pair of shoes, people with diabetes should always make sure to give their toes plenty of room. Overly tight shoes can easily cut off circulation to the toes, which is a dangerous thing when the circulation is already weak. Tight shoes also result in rubbing and friction, which can result in blisters or sores – another dangerous condition. With that in mind, always choose shoes that are wide enough to give the toes plenty of wiggle room.
Cushioning And Soft Arch Support
It's important that someone with diabetes wear shoes that have plenty of cushioning, but it's also best if the shoes provide a certain degree of arch support. The goal is to alleviate pressure points and eliminate friction, which takes a pretty specific type of shoe design. This rules out flip-flops, any shoe with a flat sole, and high heels. There are naturally occurring pressure points on the heel and ball of the foot, which is why "barefoot" shoes aren't a great choice. Flip-flops and flat-soled shoes have the same issue, and as for high heels – well, you probably don't have to guess why those are problematic.
If you've been searching far and wide for a shoe that fits comfortably but can't find one, maybe custom insoles could be the solution. They can be personalized to offset a variety of orthopedic issues, eliminate certain points of friction, and improve balance and stability.
Why The Right Shoes For Exercise Are So Important For Someone With Diabetes
A diabetes diagnosis means that a person has to be aware of daily wear and tear on their feet. Doctors advise them to inspect their feet daily for cuts, blisters, ulcers, etc. When exercise is added to the daily routine, there's an even higher risk of injury to the feet. At the same time, exercise can be highly beneficial as part of a broader approach to managing diabetes. Rather than avoiding exercise, it's better to find a pair of shoes that will protect your feet from damage. Fortunately, there are tons of options out there that are both comfortable and stylish. It isn't necessary to wear Dr Scholl's for the rest of your life; orthopedic shoes are getting more aesthetically pleasing each year, so you can feel great and look good as you keep your feet in tip-top shape.