Our hair is one of the most essential aspects of our beauty. We all love to take care of our hair to make our soft, shinning and smooth in its texture. Women often spend long hours in hair salons to get hair treatments that promise to give you bouncy and beautiful hair. Although these treatments are effective to some extent, you must take care of your mane on daily basis to get beautiful hair. Here are few tips that you must follow to get lustrous locks that will change the way you look :
1. Use Conditioner At Hair Tips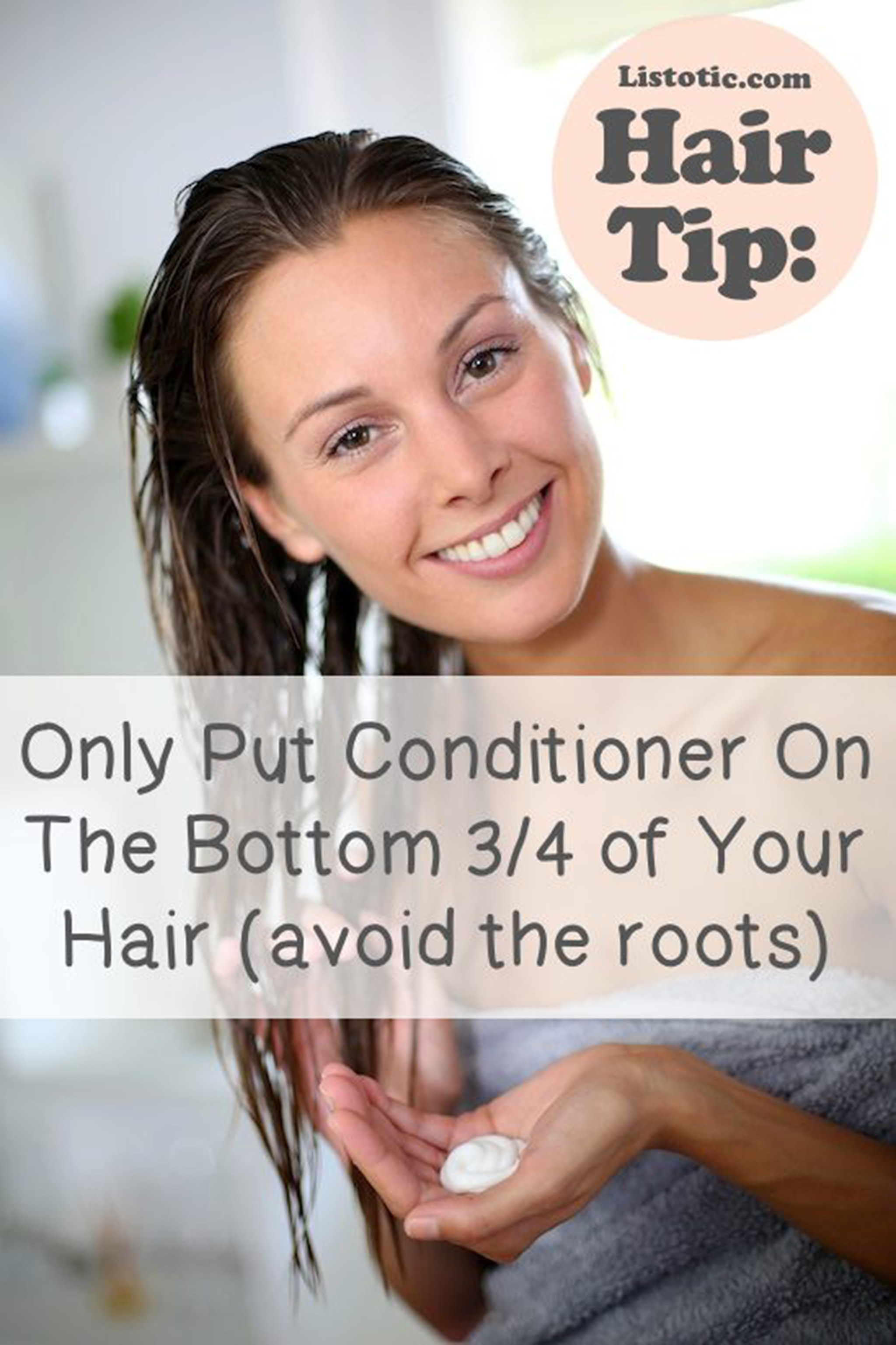 Our hair keeps producing oil on its own, hence there is no need to apply conditioner on the roots. Concentrate to apply conditioner on the hair tips as the hair ends tend to get dry and damaged. Control the frizz in your hair with help of conditioner to get smooth texture.
2. Spray Bobby Pins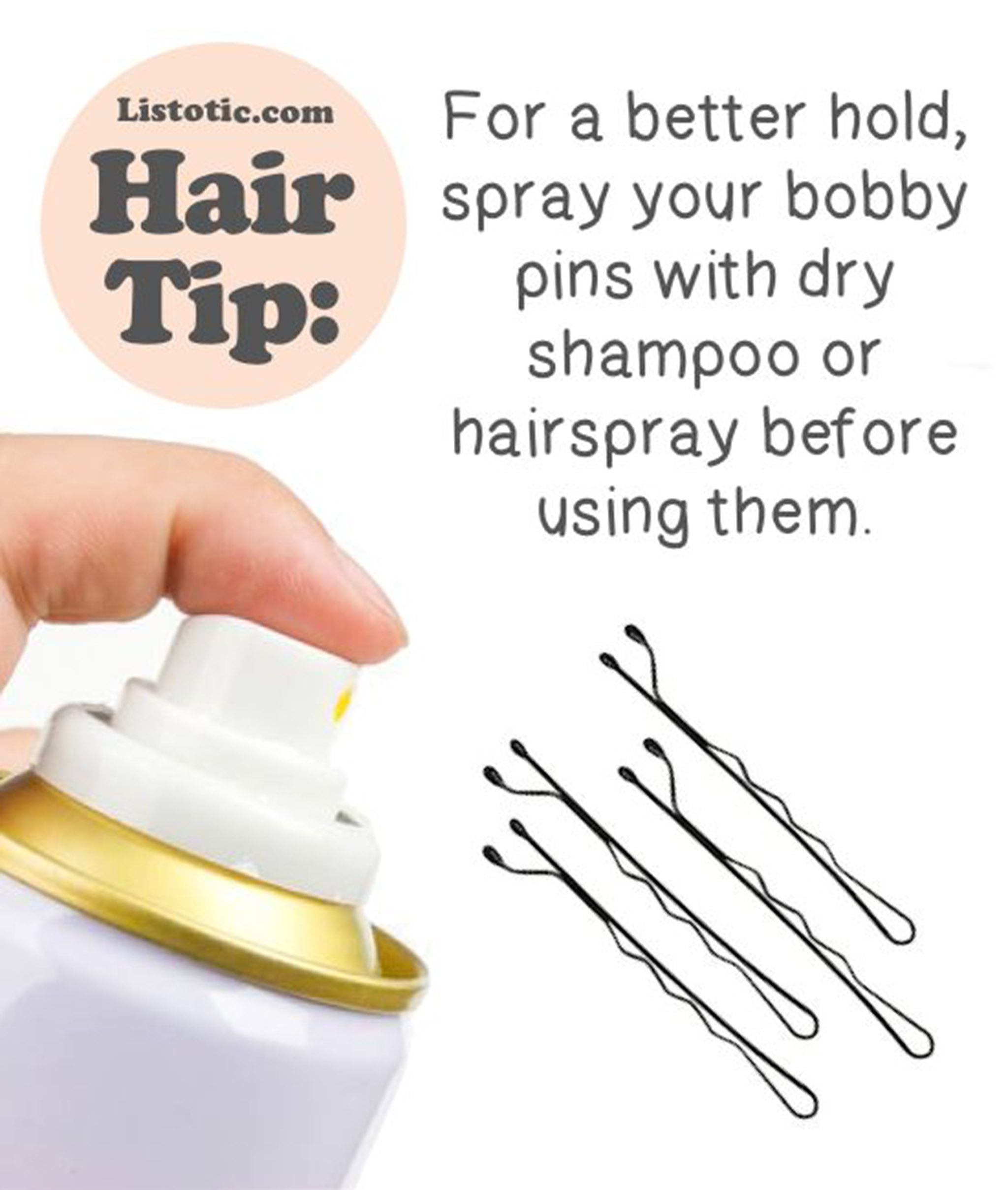 To keep your bobby pins in place on your hair and to prevent them from slipping off your hair spray the pins with hair spray or dry shampoo. This will give bobby pins an extra grip and a better hold.
3. Sleep On Silk Pillows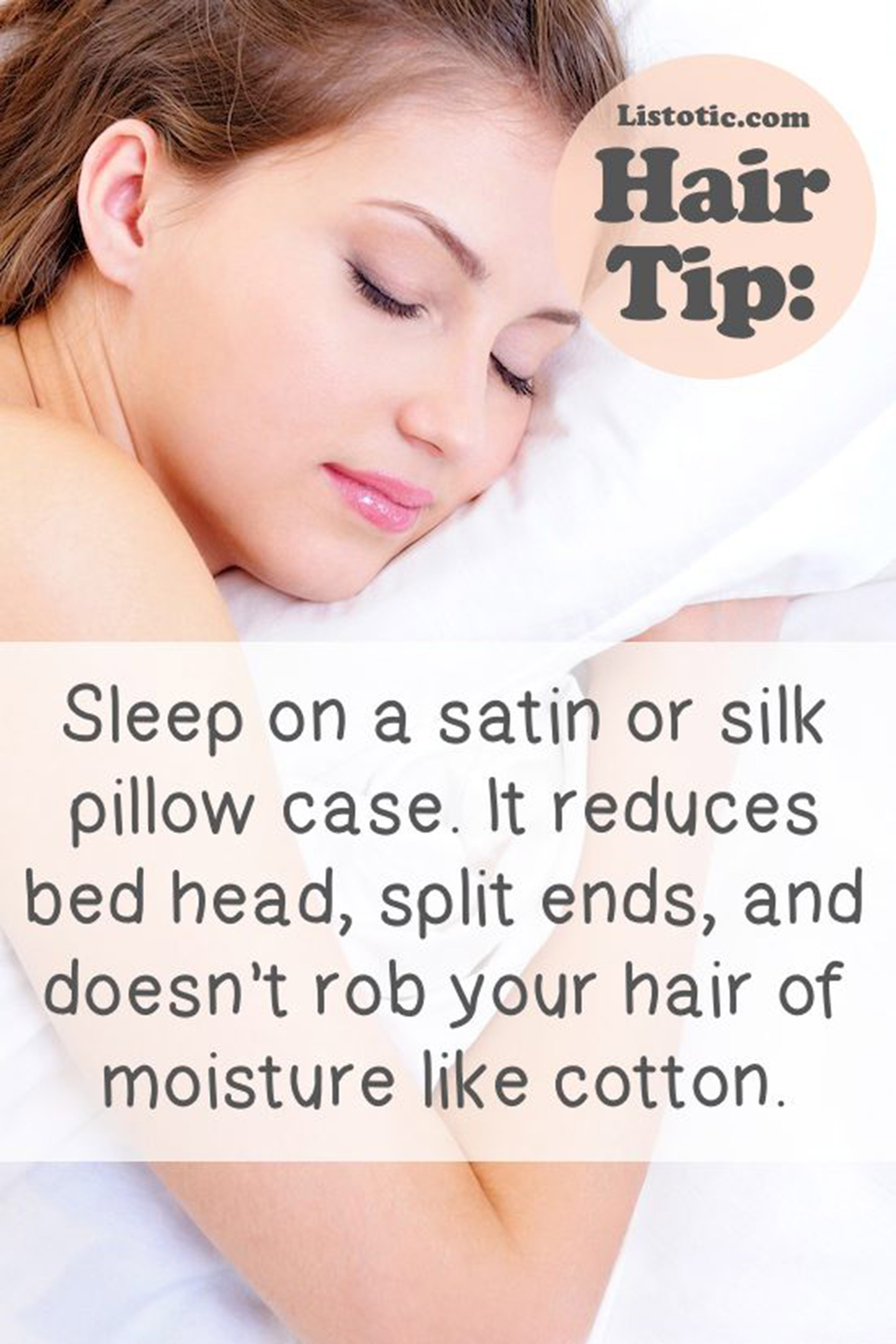 Cotton pillow covers rob the moisture from your hair, leaving it dry and susceptible to breakage. To prevent your hair from split ends and damage, switch your pillow covers from cotton to silk.
4. Massage Scalp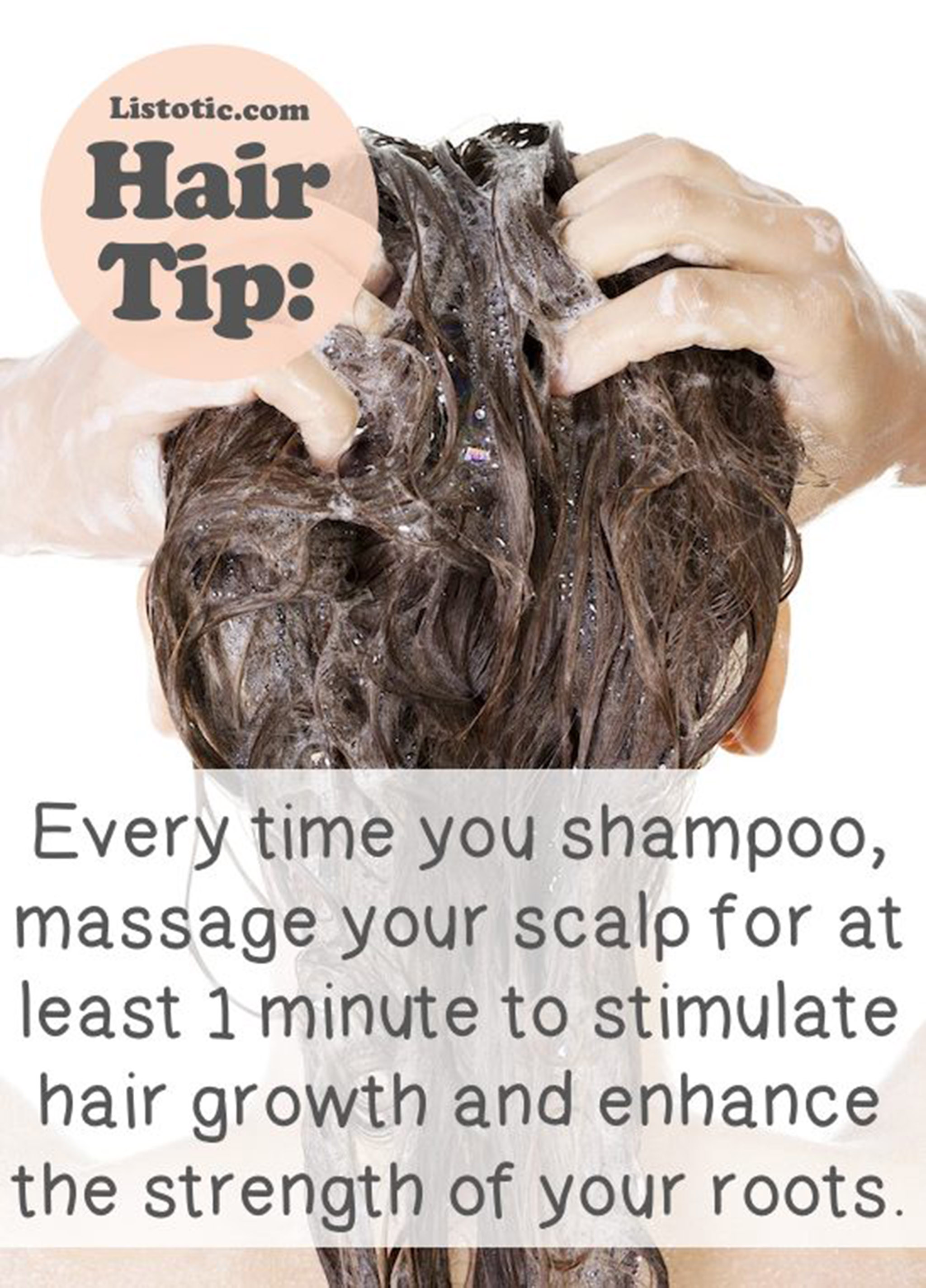 While you shampoo your hair, massage your scalp well. this will not only remove all the dirt but also promote blood circulation in your scalp and reduce stress and calm your nerves.
5. Wide Tooth Comb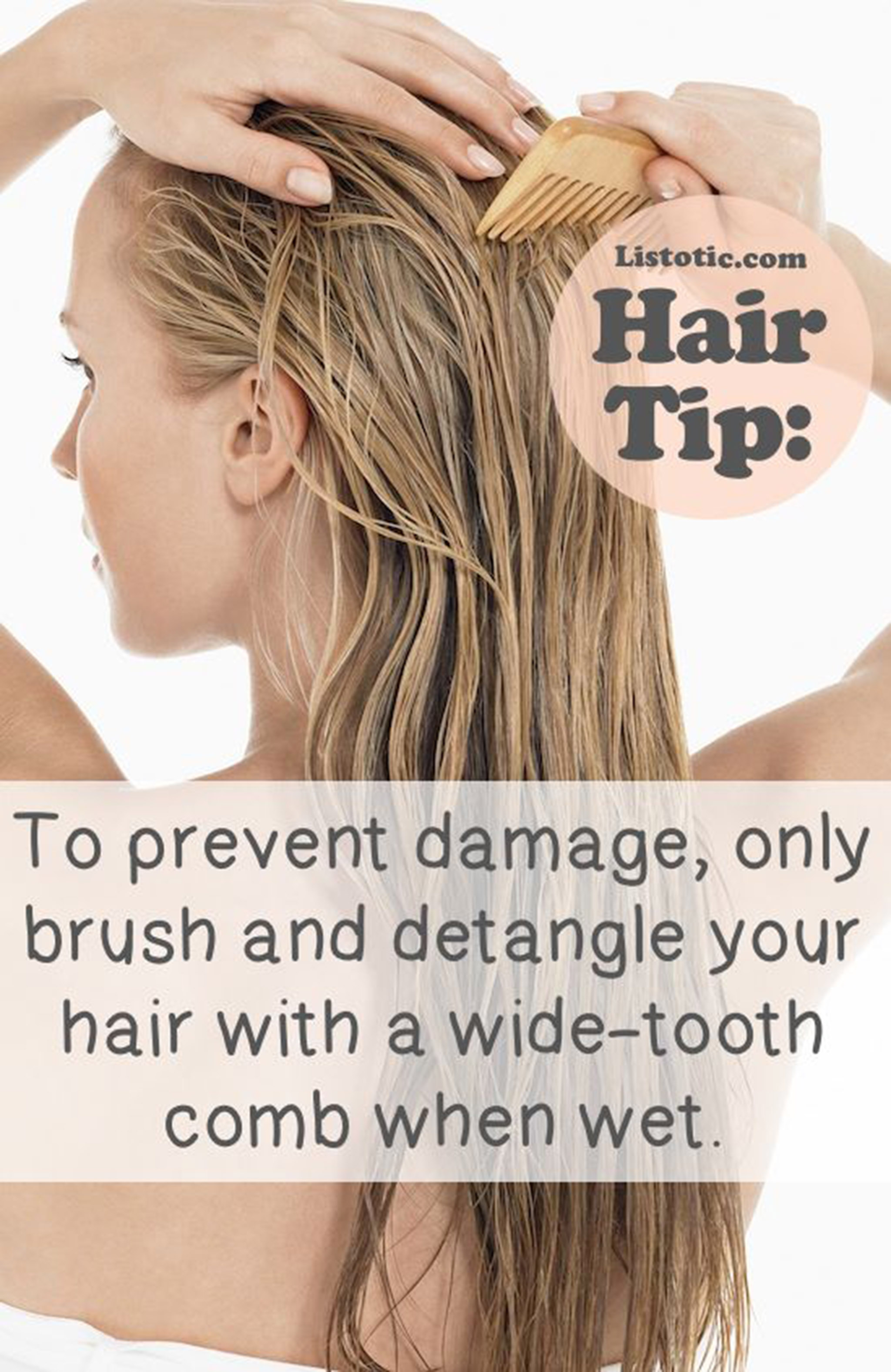 Never use a regular comb or hair brush on your hair while it's still wet. To detangle your hair use a wide toothed comb to prevent it from the damage. If your hair is prone to tangles, the comb it immediately after applying conditioner to remove tangles easily.
6. Make Your Ponytail Appear Long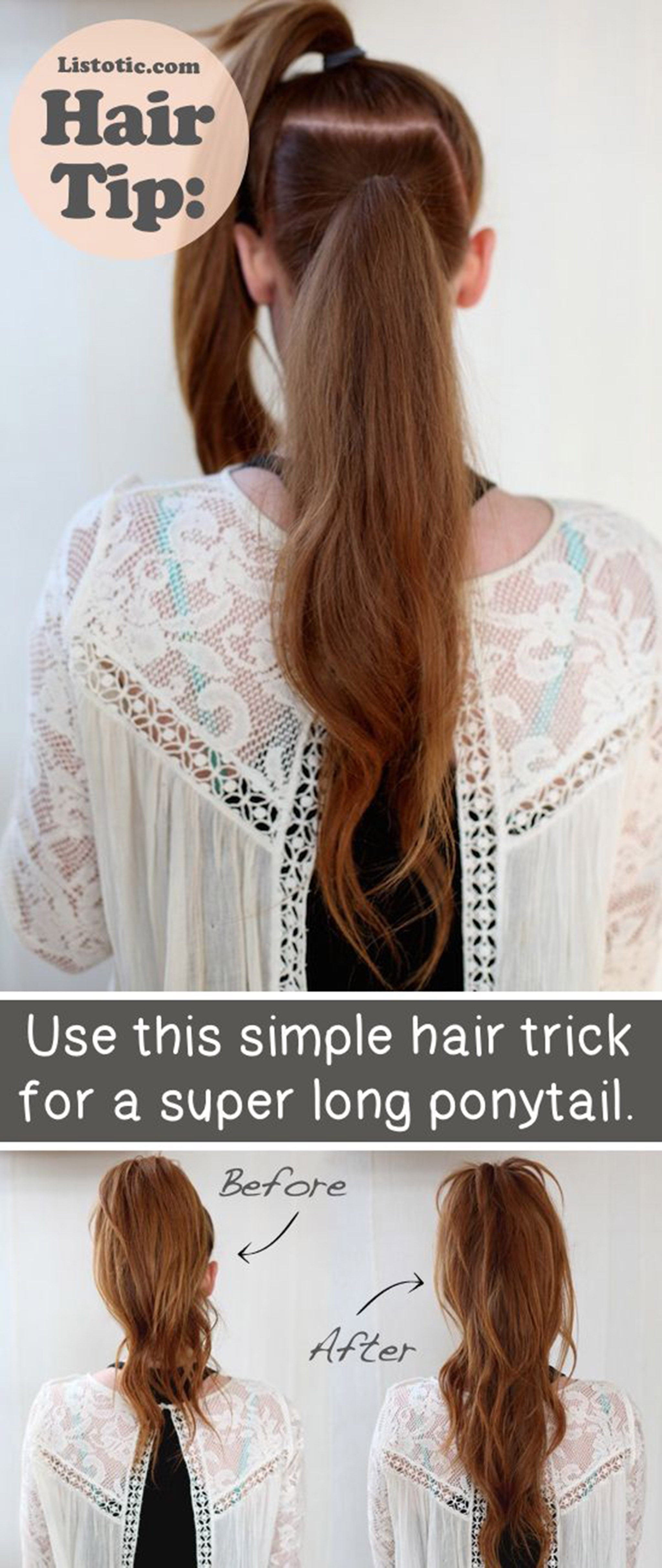 To make your ponytail appear longer and fuller, comb your hair well to remove the tangles. Grab top section of your hair and tie it up. Grab the remaining hair and tie it up at the bottom of your head. Fluff up the top pony to finish the look.
7. Switch To Spin Pins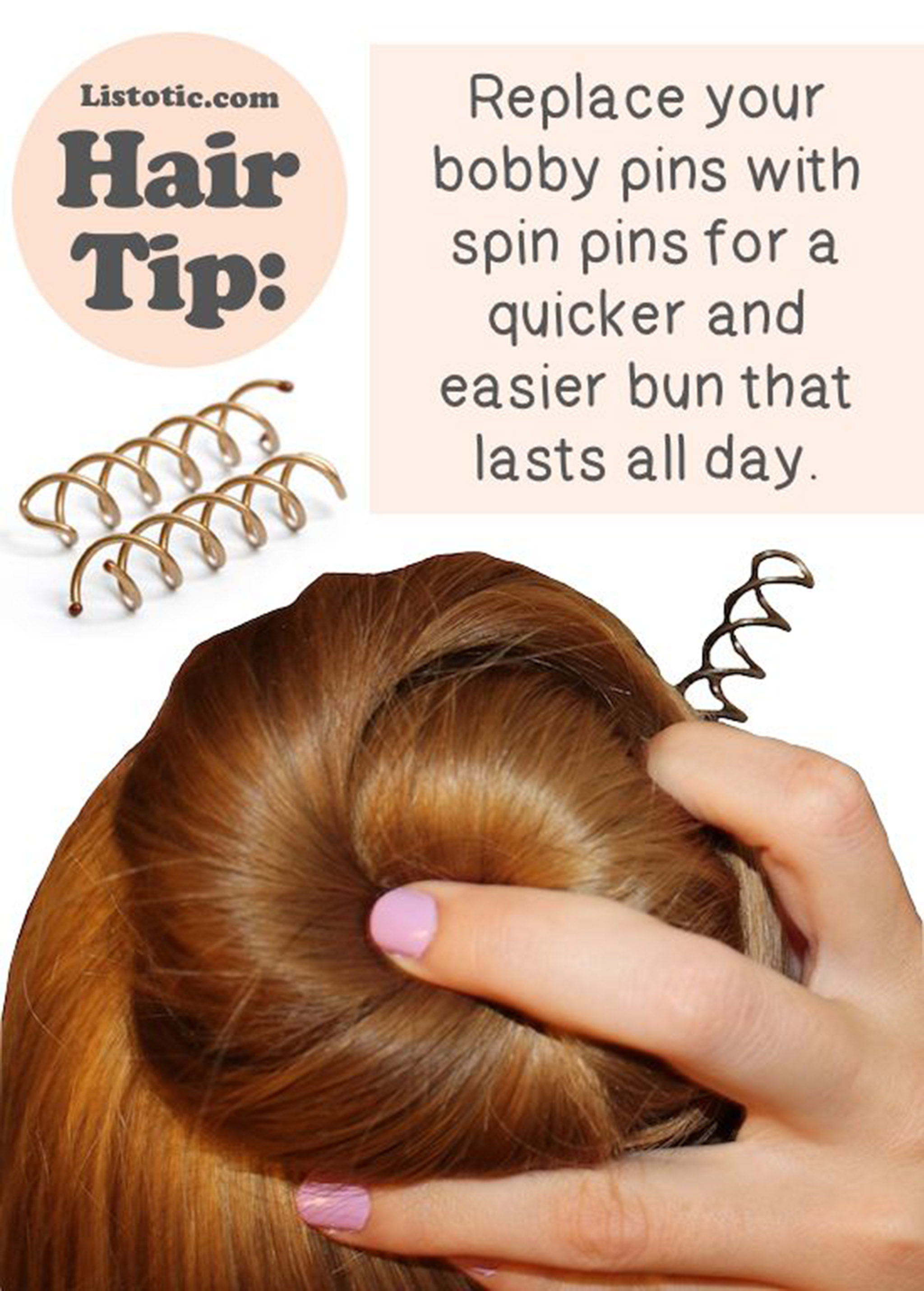 Instead of using dozens of bobby pins to your bun a good hold, use spin pins that are in trend these days. The best part of these pins is that you need to use just 2 pins at a time.
8. Use Hair Mist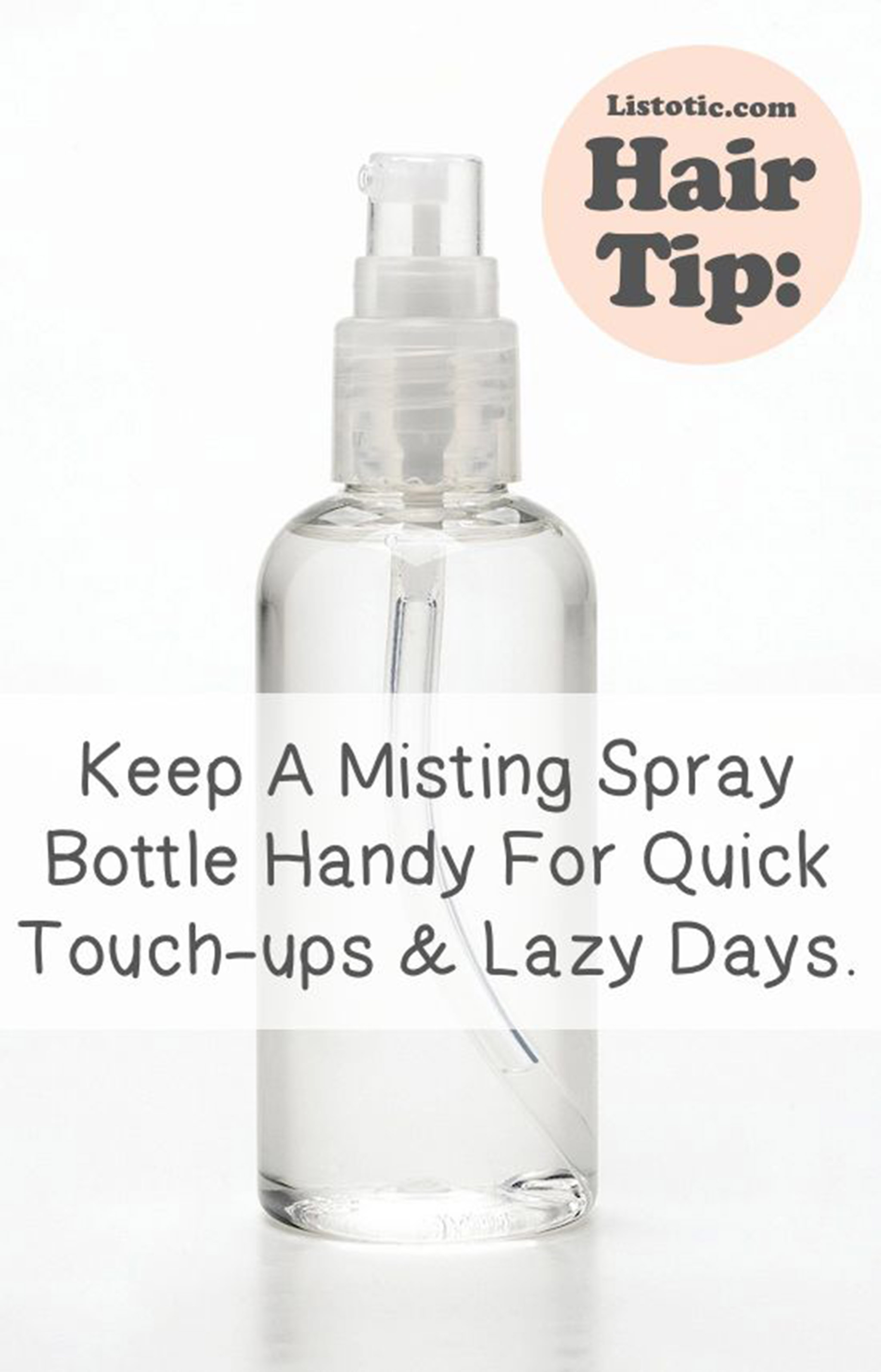 There are some lazy days when you don't want to wash your hair or when you wake up late and you have no time to wash hair. Freshen up your hair with hair mist so it will absorb all the excess oil and your hair will be all set for the day.
9. Fake Ponytail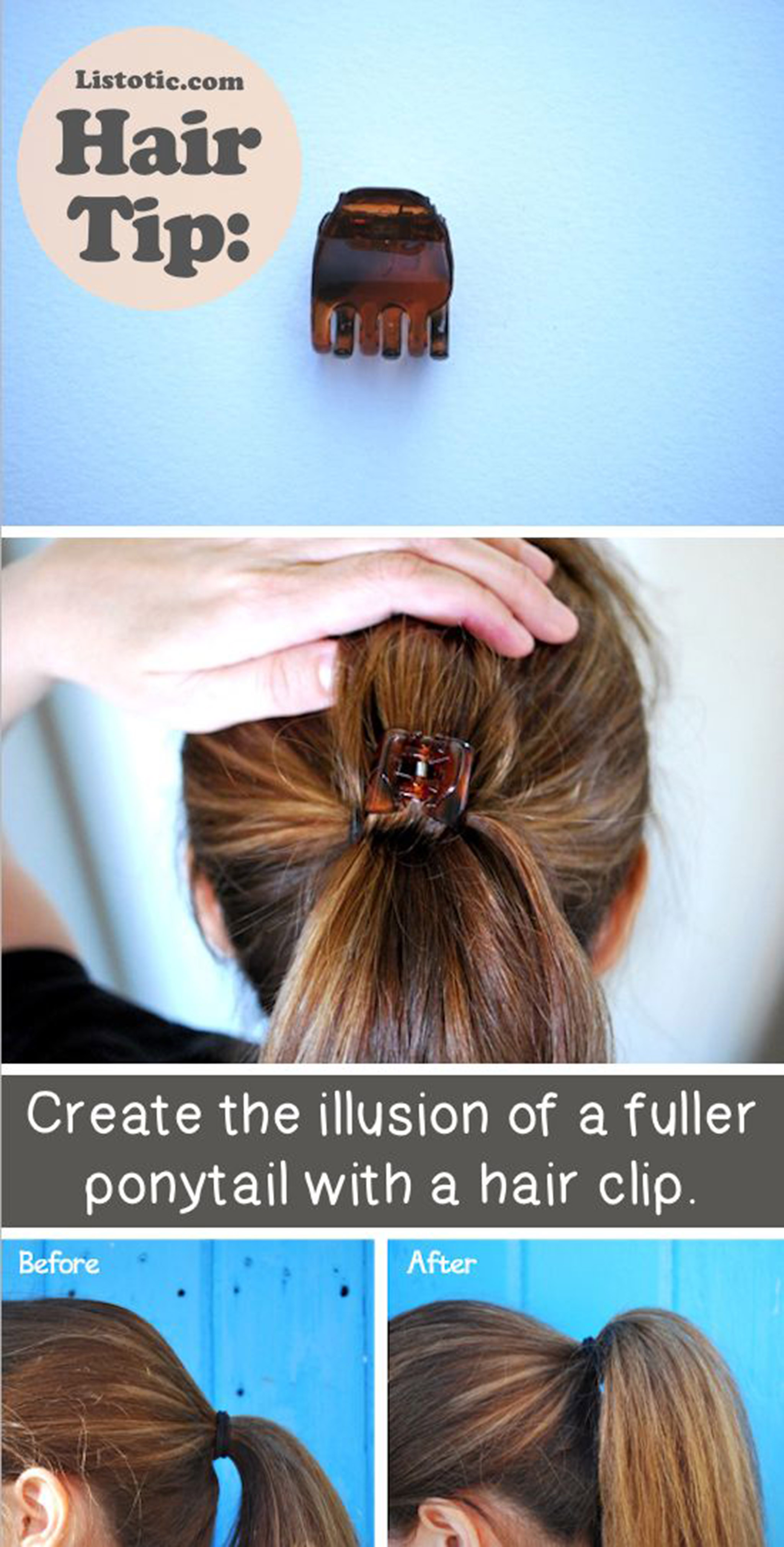 To give your ponytail an illusion of fuller ponytail, tie up a high ponytail and secure it with a hair clip and fluff up your hair slightly.
10. Brush Hair Before Shower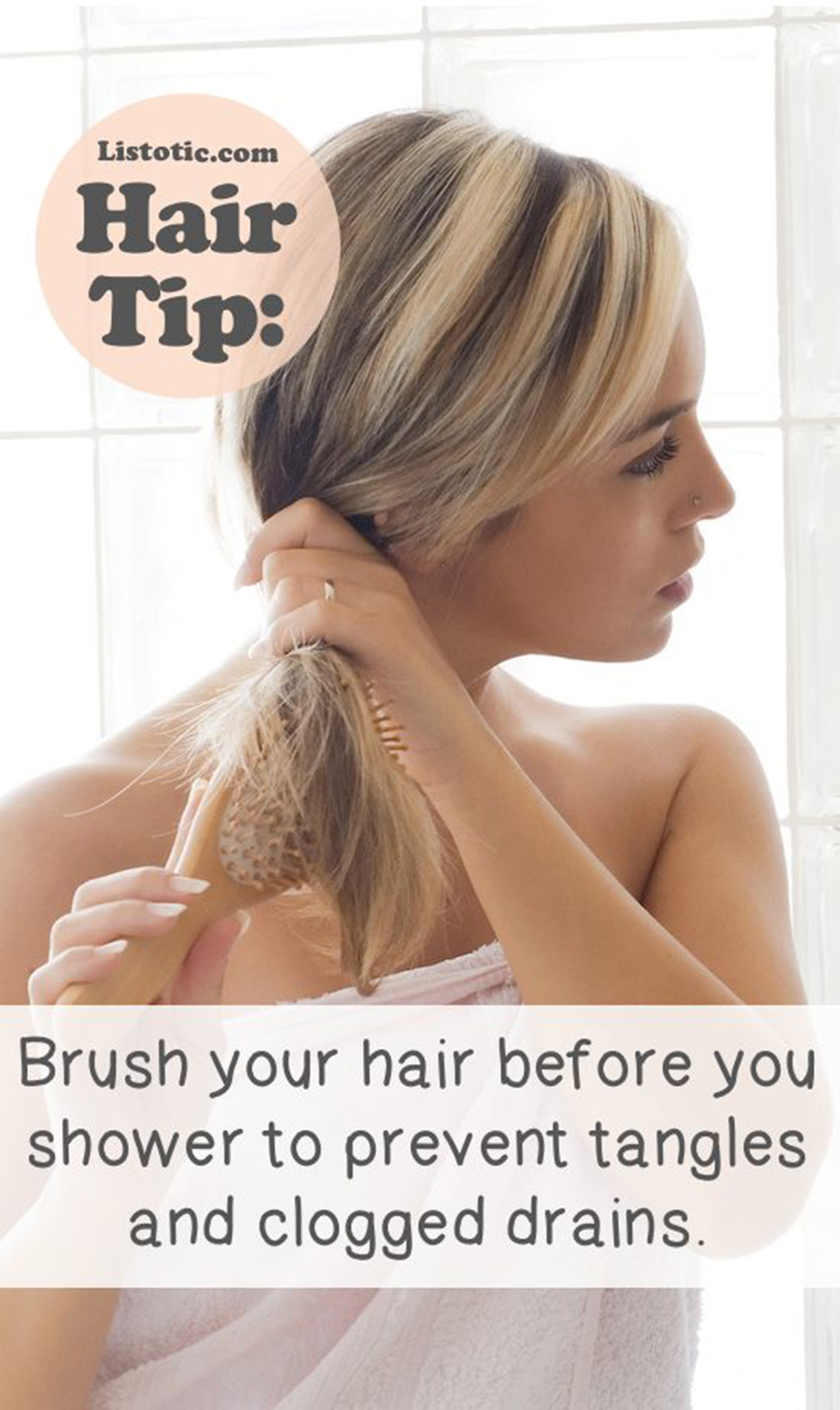 To prevent tangles and clogging of your drains, brush your hair well before you shampoo them. This will also protect you from losing hair while washing.
11. Correct way Using Bobby Pins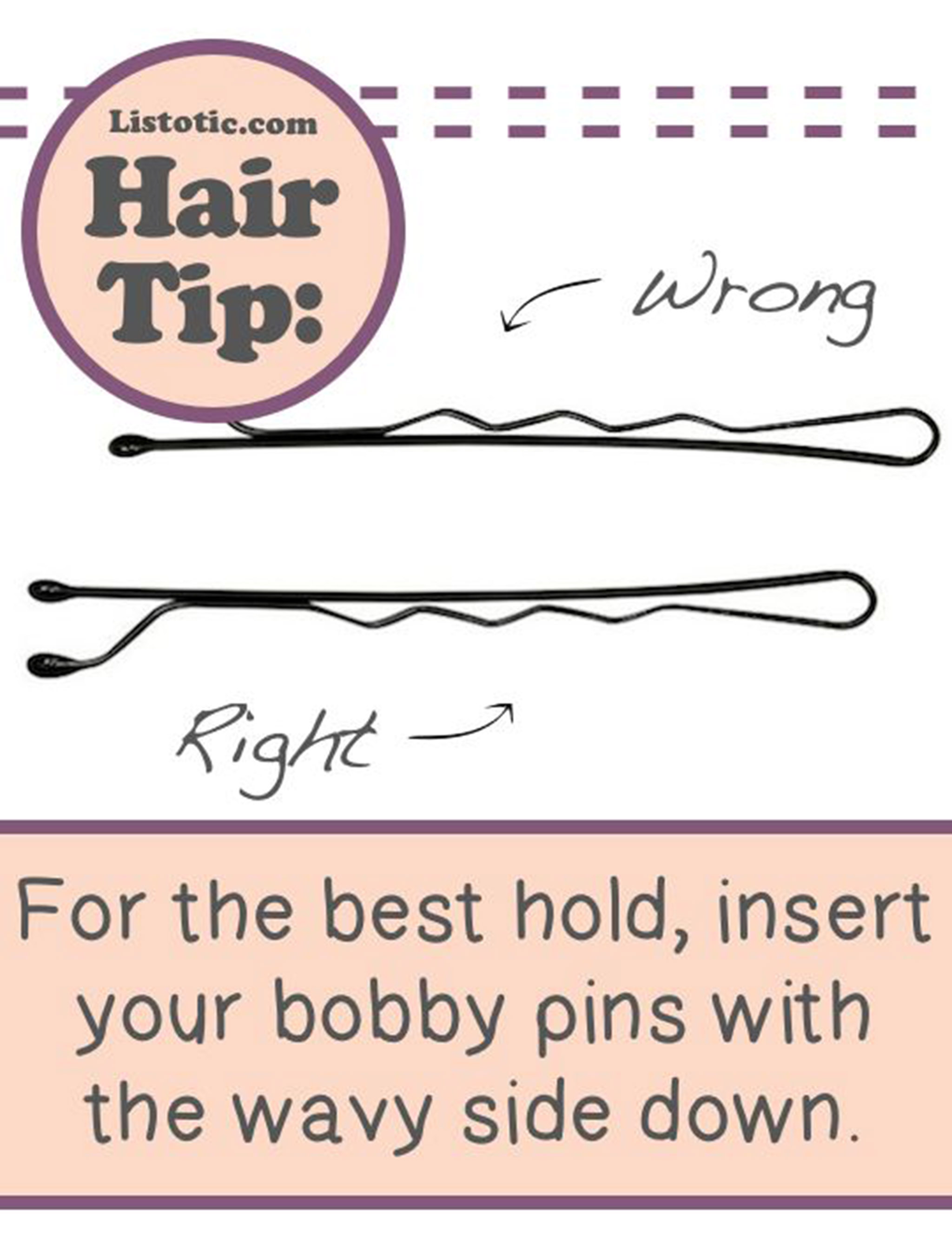 The correct way to use bobby pins is to place the wavy side of pins in the inner zone of your hair. The wavy part of the pin holds the hair well and gives a neat look.
12. Natural Curls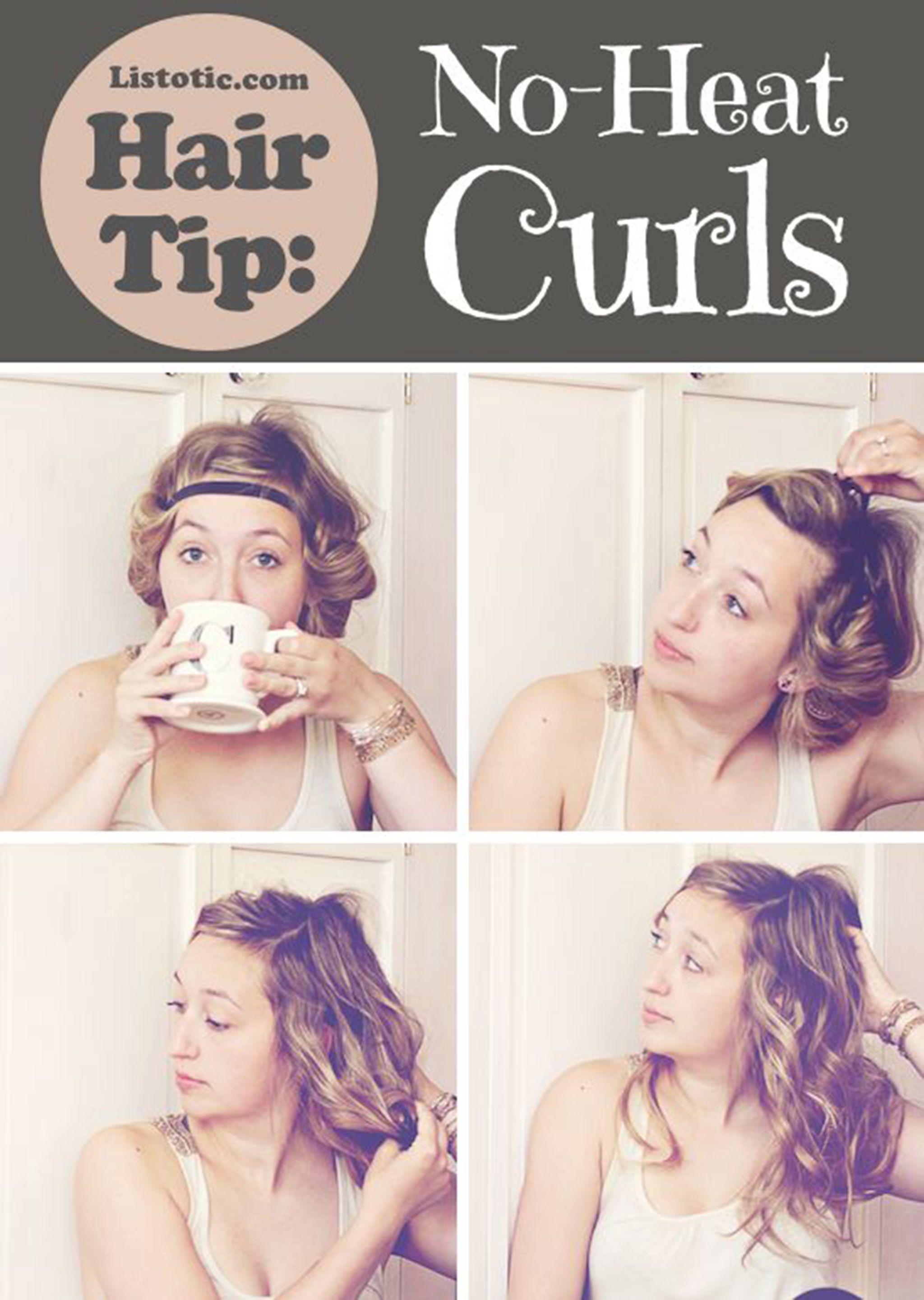 To make your hair curly without using any heat, tie up your hair with a hair band and leave it overnight. Remove the band next morning and you will have natural curls in your hair.
13. Disguise Your Roots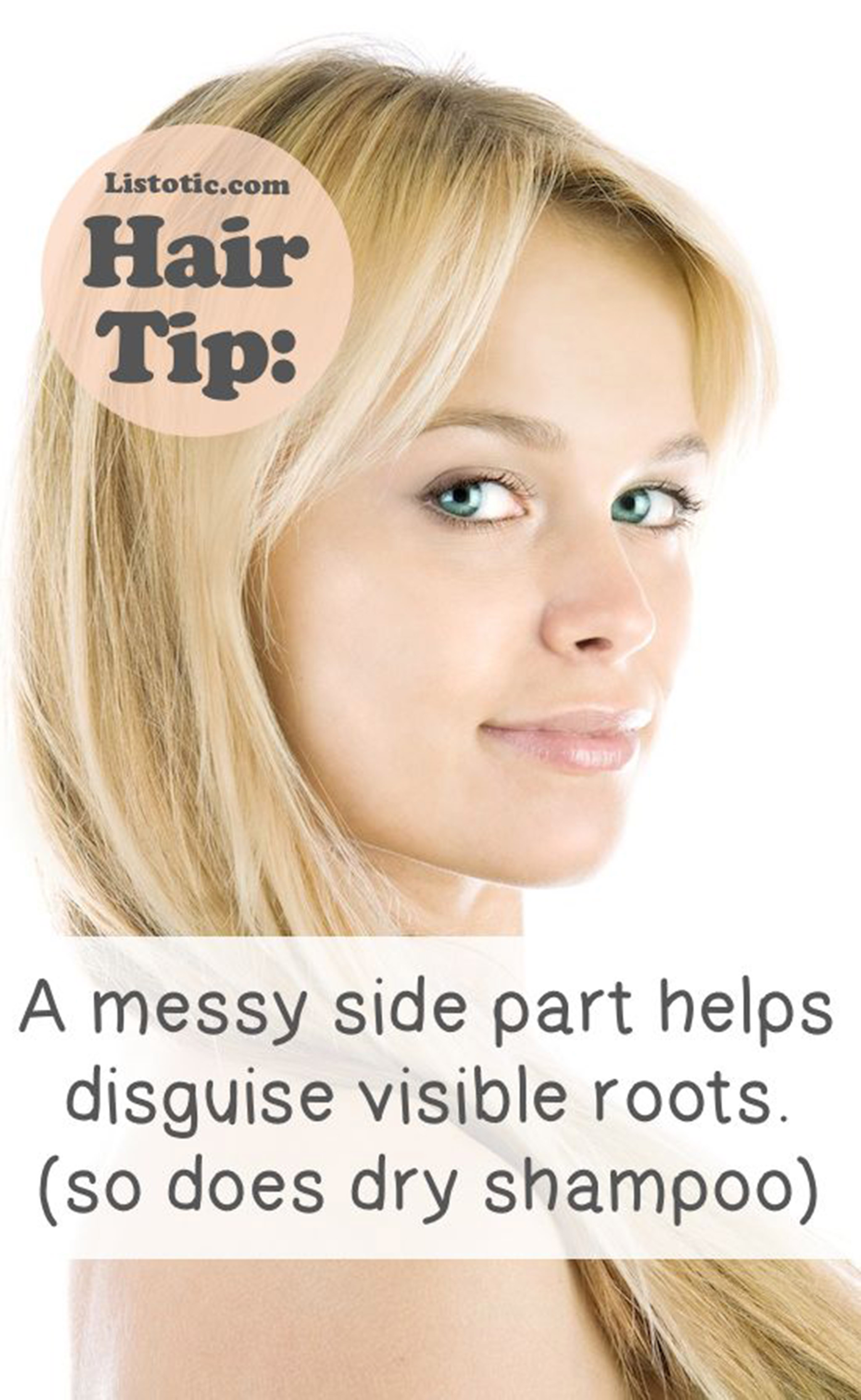 If you have coloured your hair in blonde colour, camouflage the roots that have turned dark by styling them with a messy side part.
14. Tame Fly Away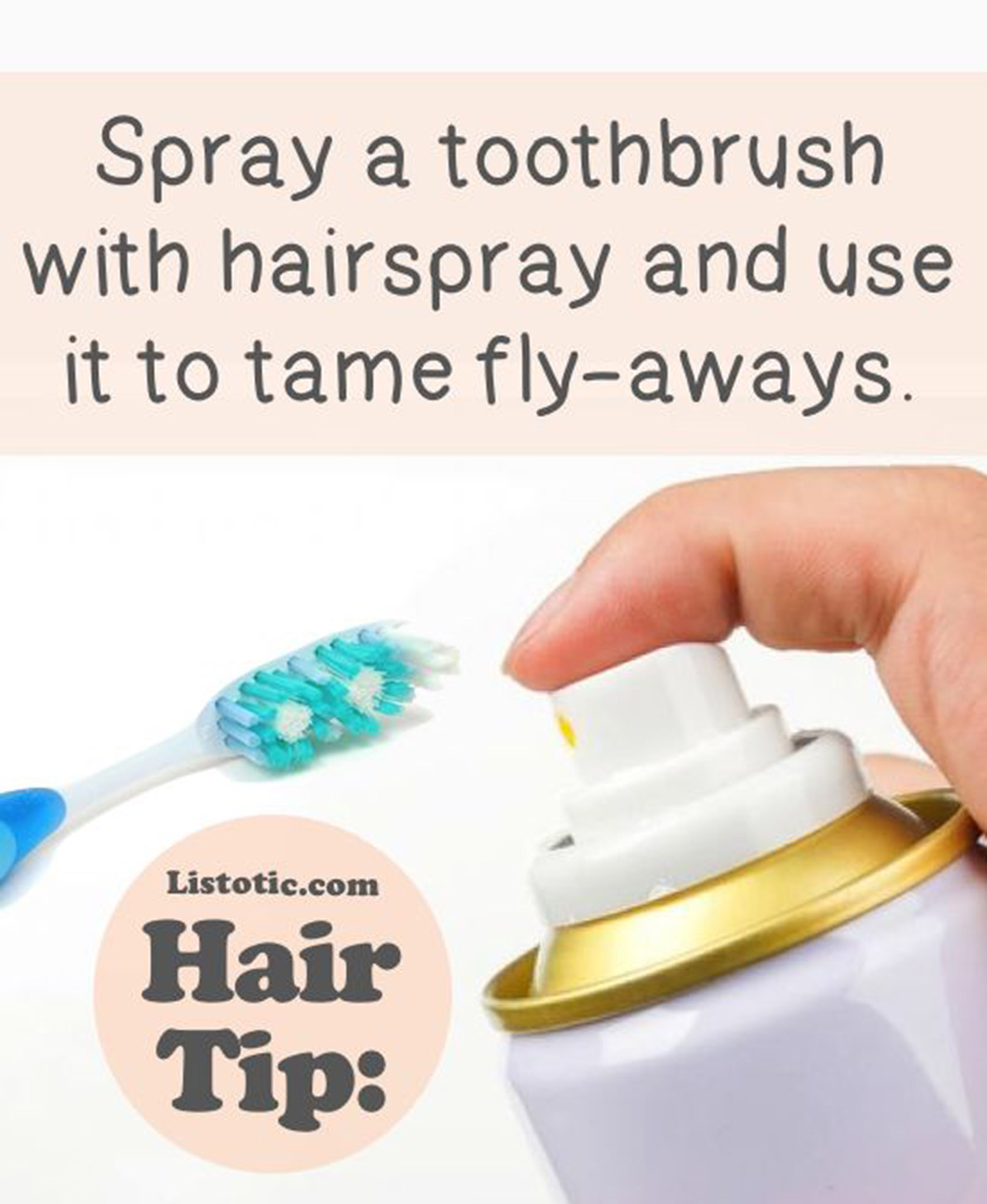 To tame the fly away and frizzy hairs, apply some hairspray on a toothbrush and run the toothbrush on hair.
15. Curling Wand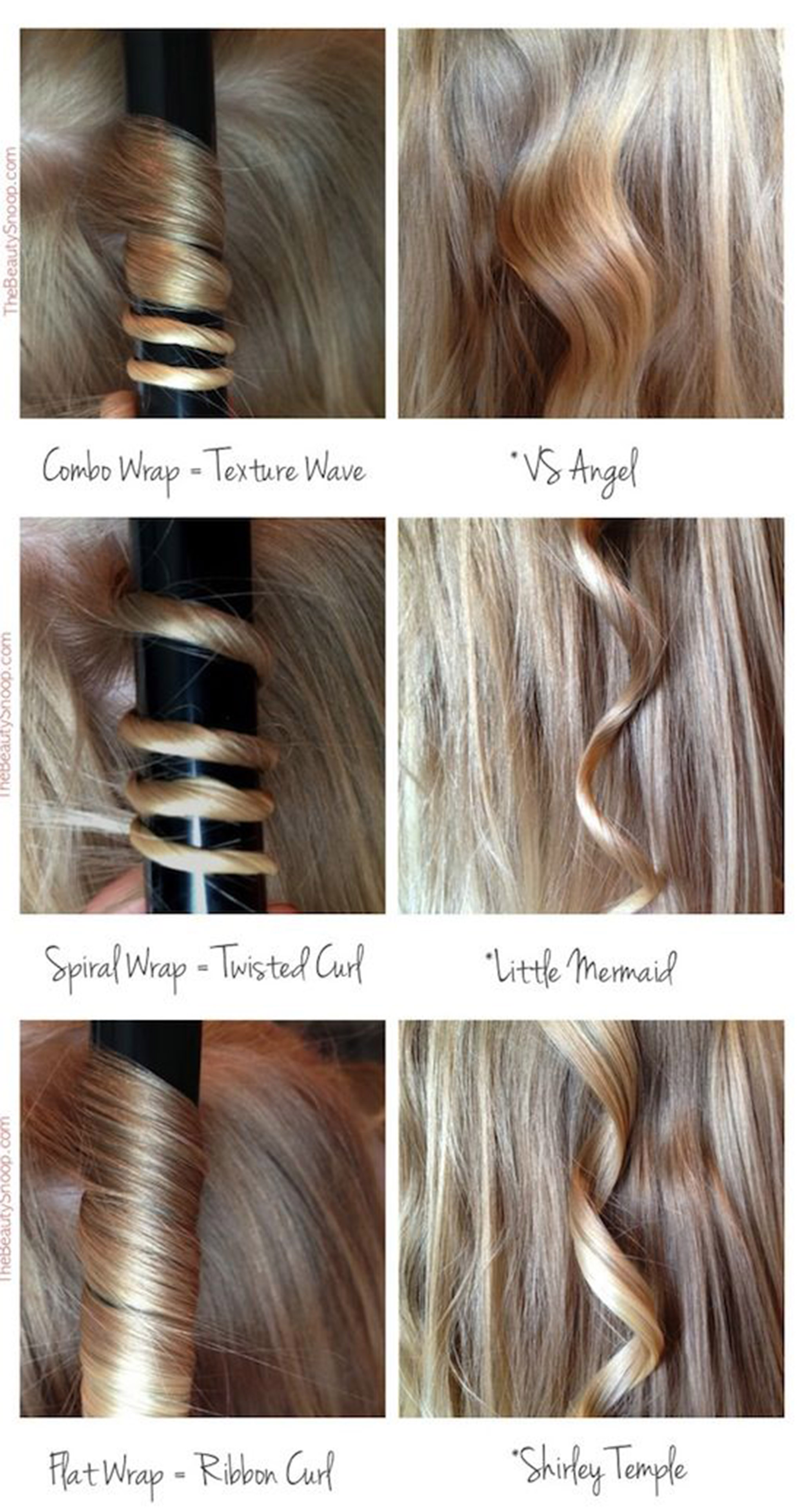 Hold the curling wand in different ways to create different styles of curling up.
16. Styling Products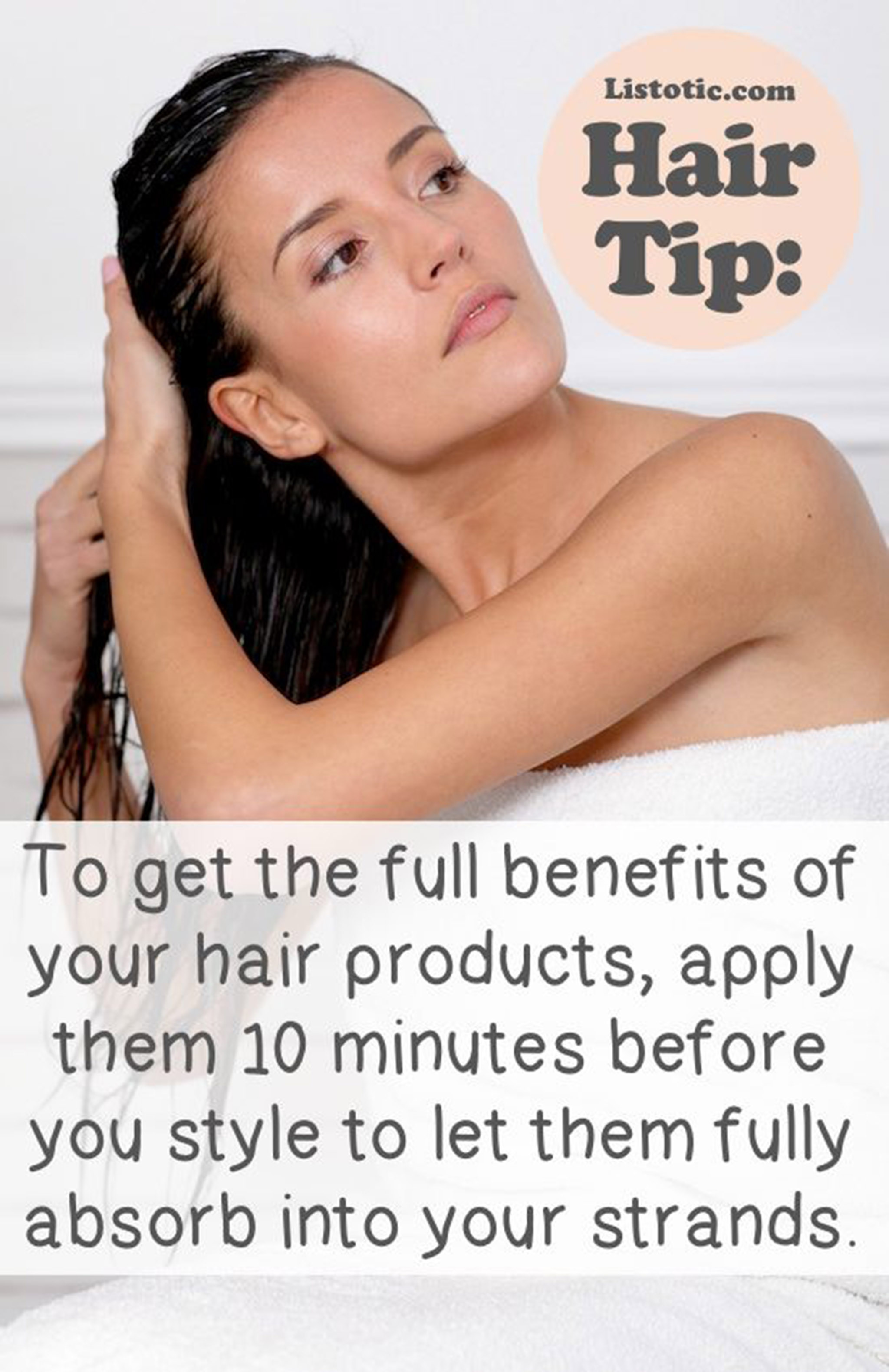 To let the styling products set your hair well, allow them to set in your hair for few minutes before using brushes or dryers or other hair tools on your hair.
17. Beach Waves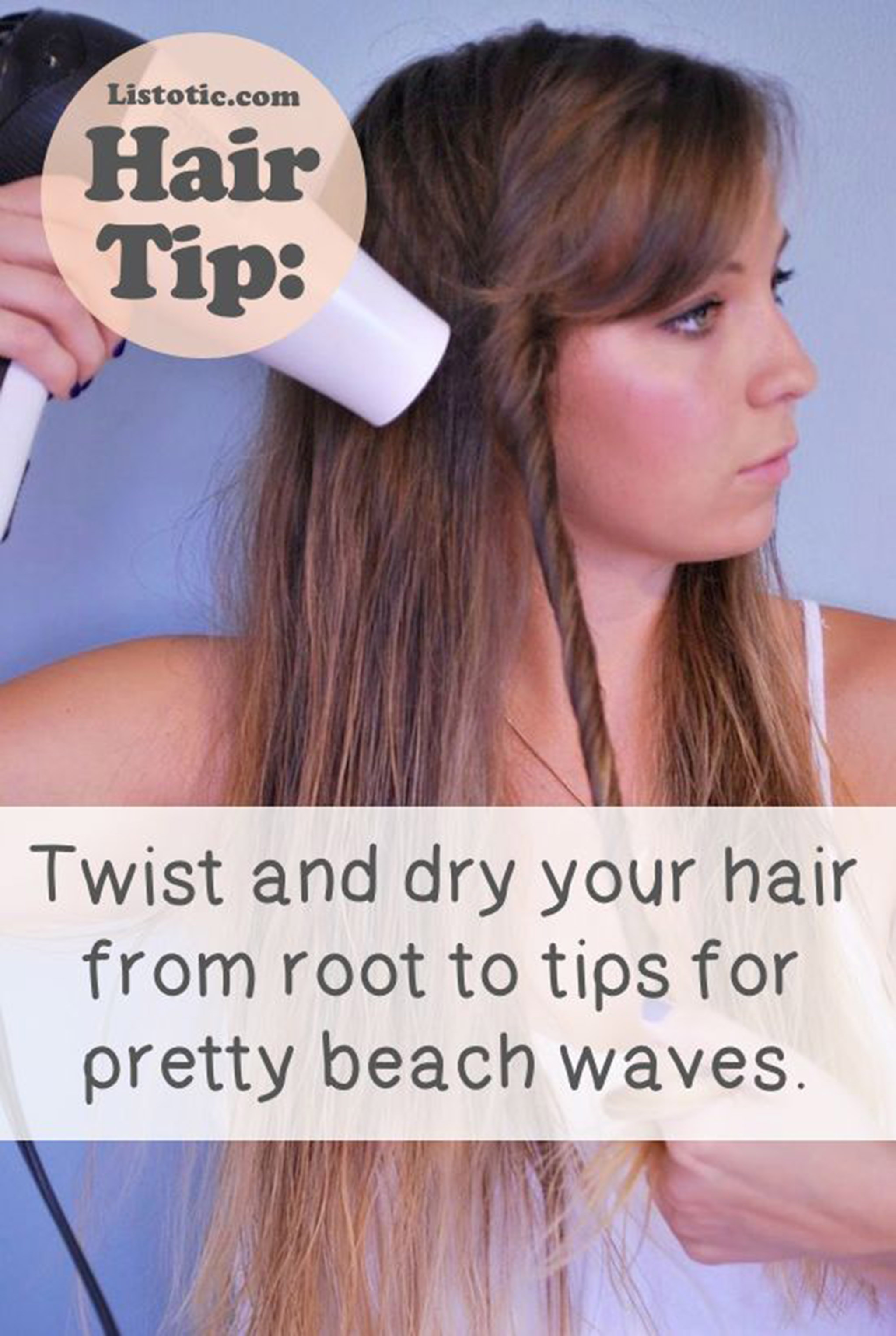 Create beach waves quickly by twisting your hair and running hair dryer over it. This trick gives you natural waves.
18. Dry Out Your Hair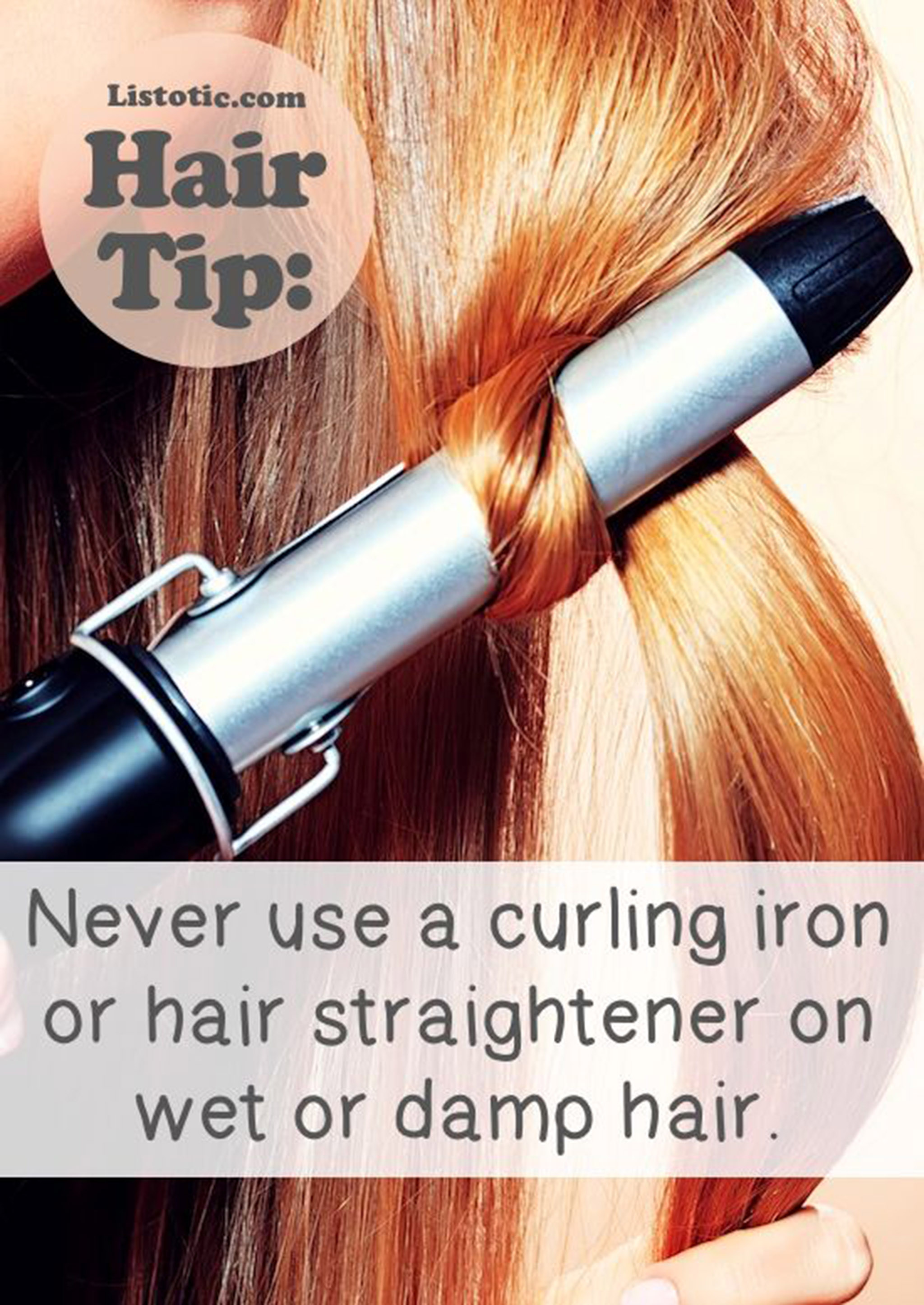 Never use styling dryers or ho irons on your hair while it's still wet. Dry your hair first and then use the styling tools on your hair to prevent hair breakage and damage.
19. Treatment To Fight Split Ends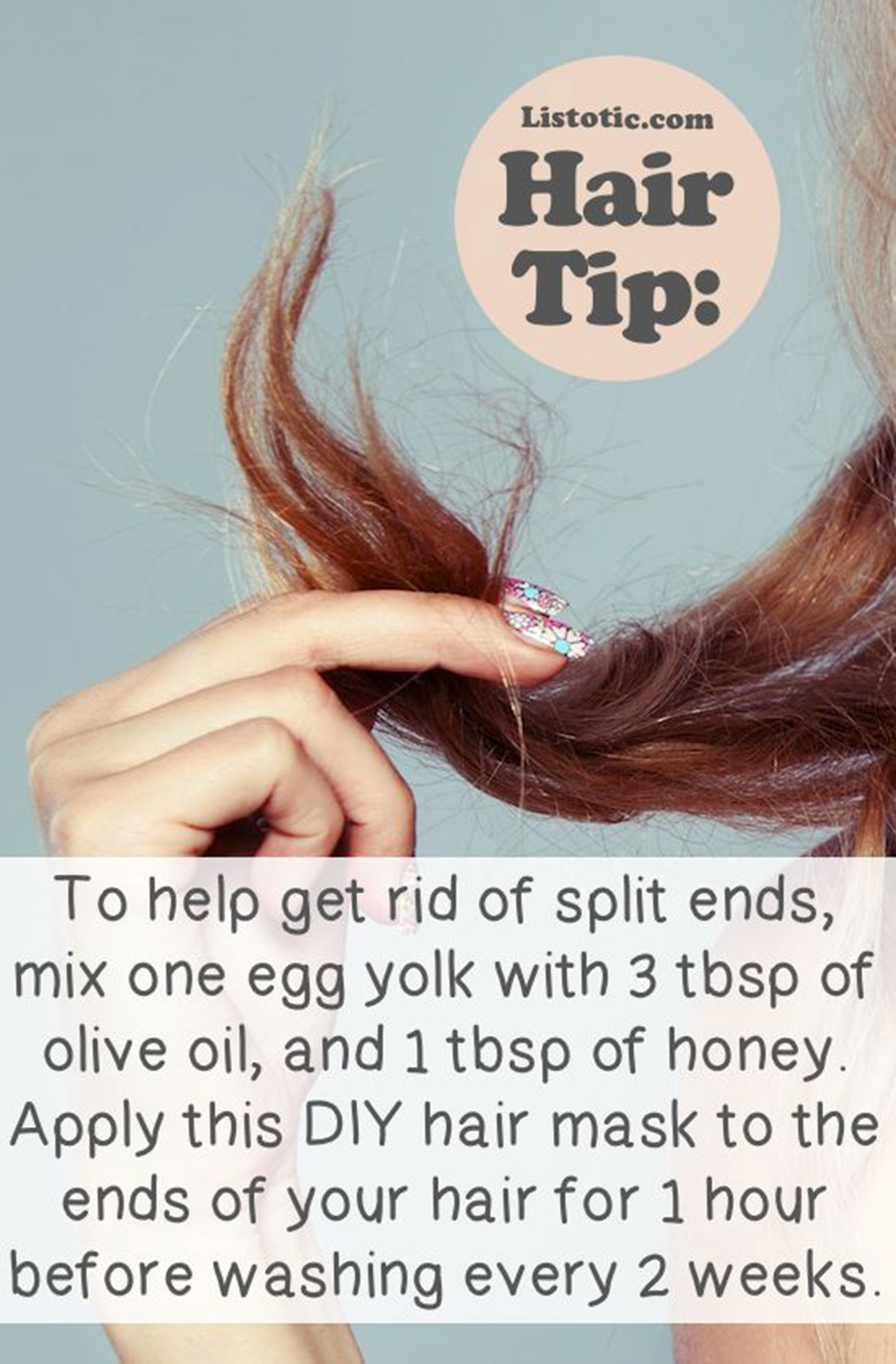 To treat the split ends, mix one egg yolk with 3 tablespoons of olive oil and 1 tablespoon of honey. Apply the mask on your hair and let it stay for 1 hour and wash as usual. Follow this remedy twice a month.
20. Understand Brushes And Combs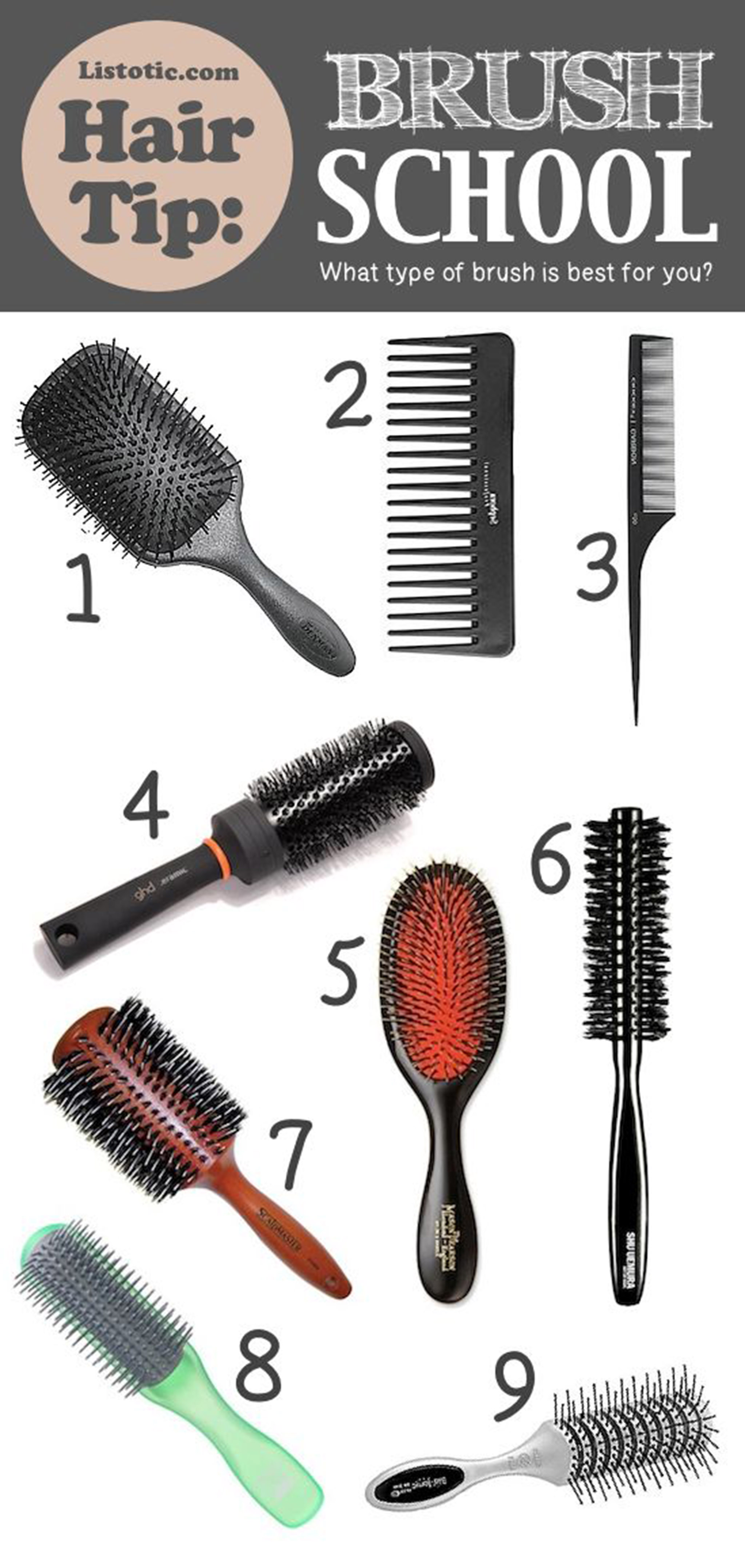 There are variety of brushes and comb available, choose the brush and comb that are suitable for your hair type.
21. Flyaway Fighter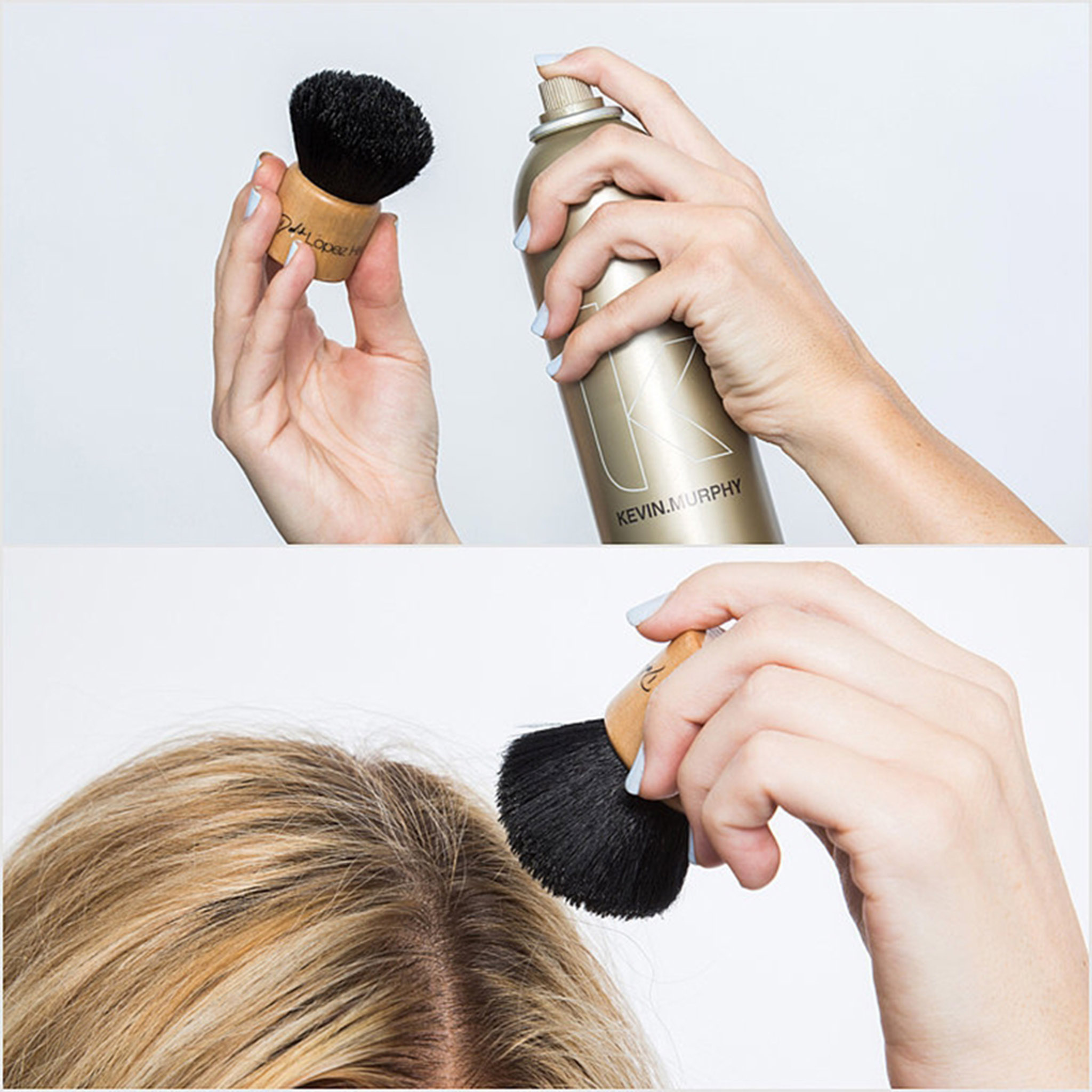 Spritz a makeup brush (one that you won't be using on your face again) with hair spray. Then, use the densely packed hairs to smooth away flyaway hairs.
Image Source: Listotic.co