Check out the creative ways to wear your jean. These Brilliant DIY Denim Jean Hacks and Tricks can transform your old jeans and give new look. You might not find skirts in everyone's wardrobe, but jeans would definitely be there in young girl's wardrobe. There are different kinds of denim out there. Some are ripped, some are baggy, some are skinny and what not. They are easy to wear and are so comfortable that everyone prefers wearing it, when they have to go out on a lazy day. But still, there are some struggles that girls who wear jeans on a regular basis might understand. For example, the fading of color or when they are too long, right? So what to do when you buy a pair? Here are some Simple Denim Jeans Hacks:
1. Make Use Of A Key Ring.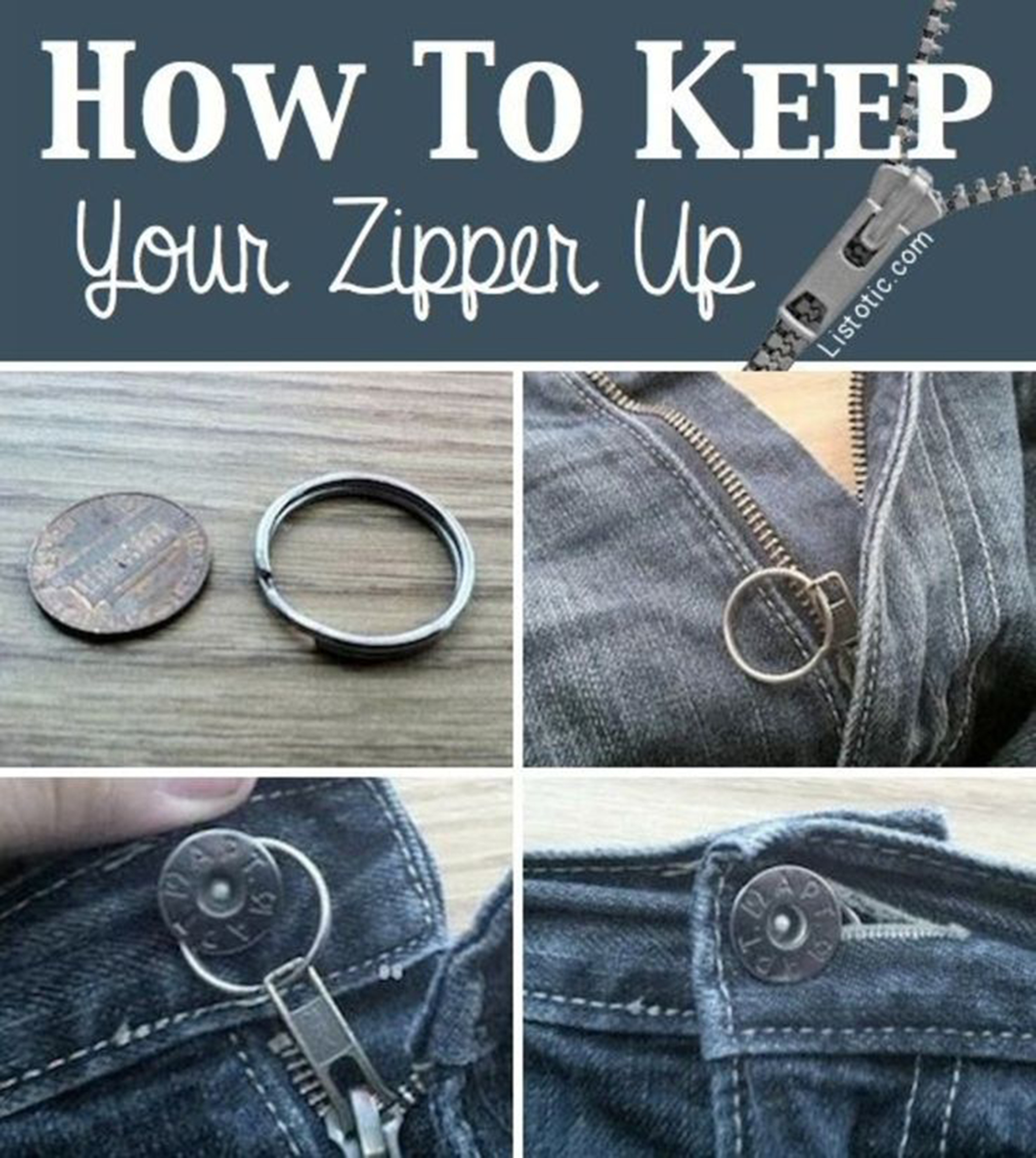 As shown in the picture, you can always attach a key ring to the zipper and then attach it with the button, to shut the zip tightly. Otherwise, the zip keeps sliding off.
2. Denim Hacks, When Your Jeans Are Too Long.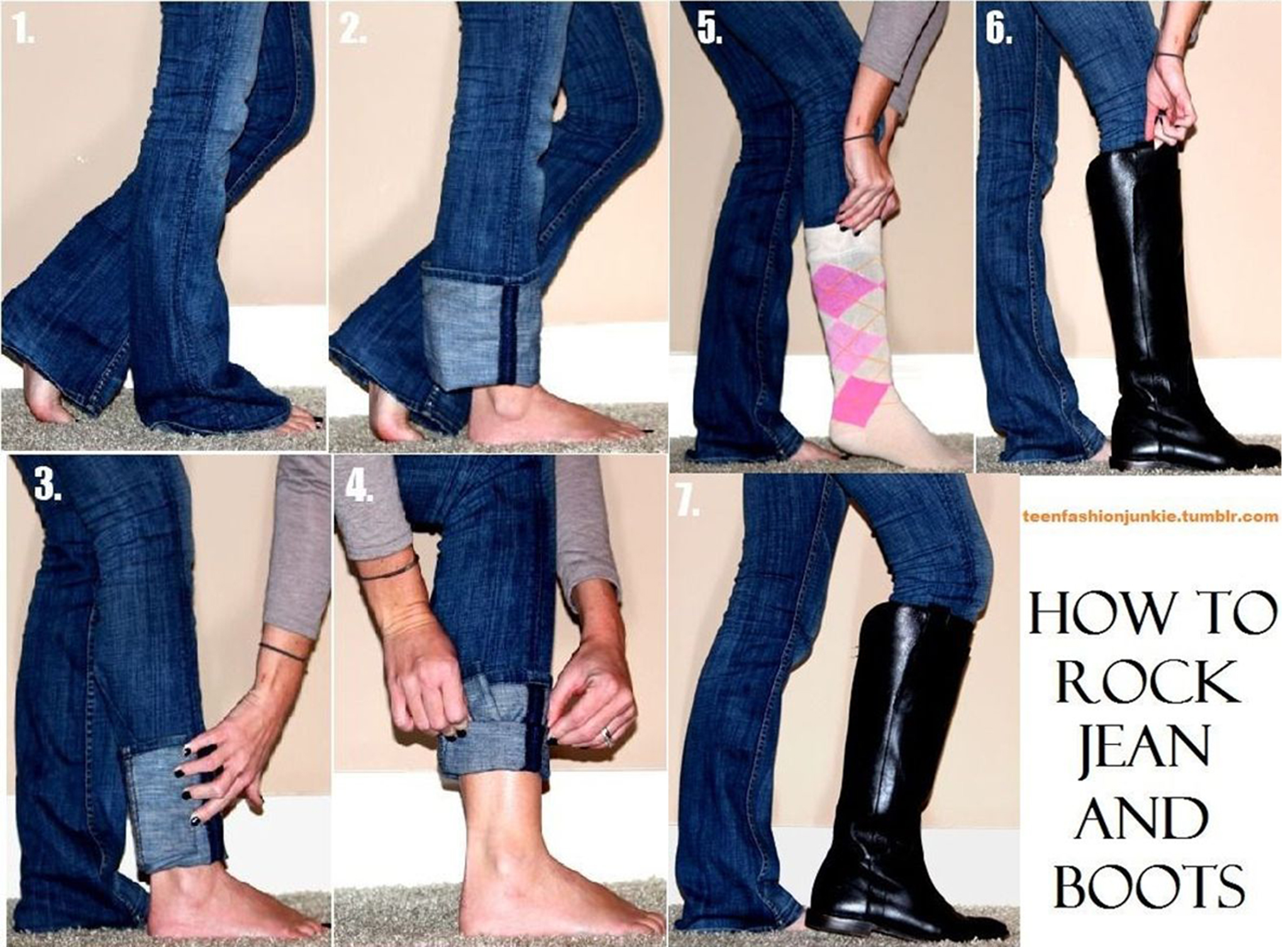 Boots always work wonders when your jeans are too long. When they are skinny jeans, you can always fold them up, but when they are baggy, they might involve a risk of getting bunched up between your boots. With the help of socks and making some folds, you can always get rid of the problem an then carry off your boots in a fashionable manner.
3. Alter denim jeans In A Perfect Way.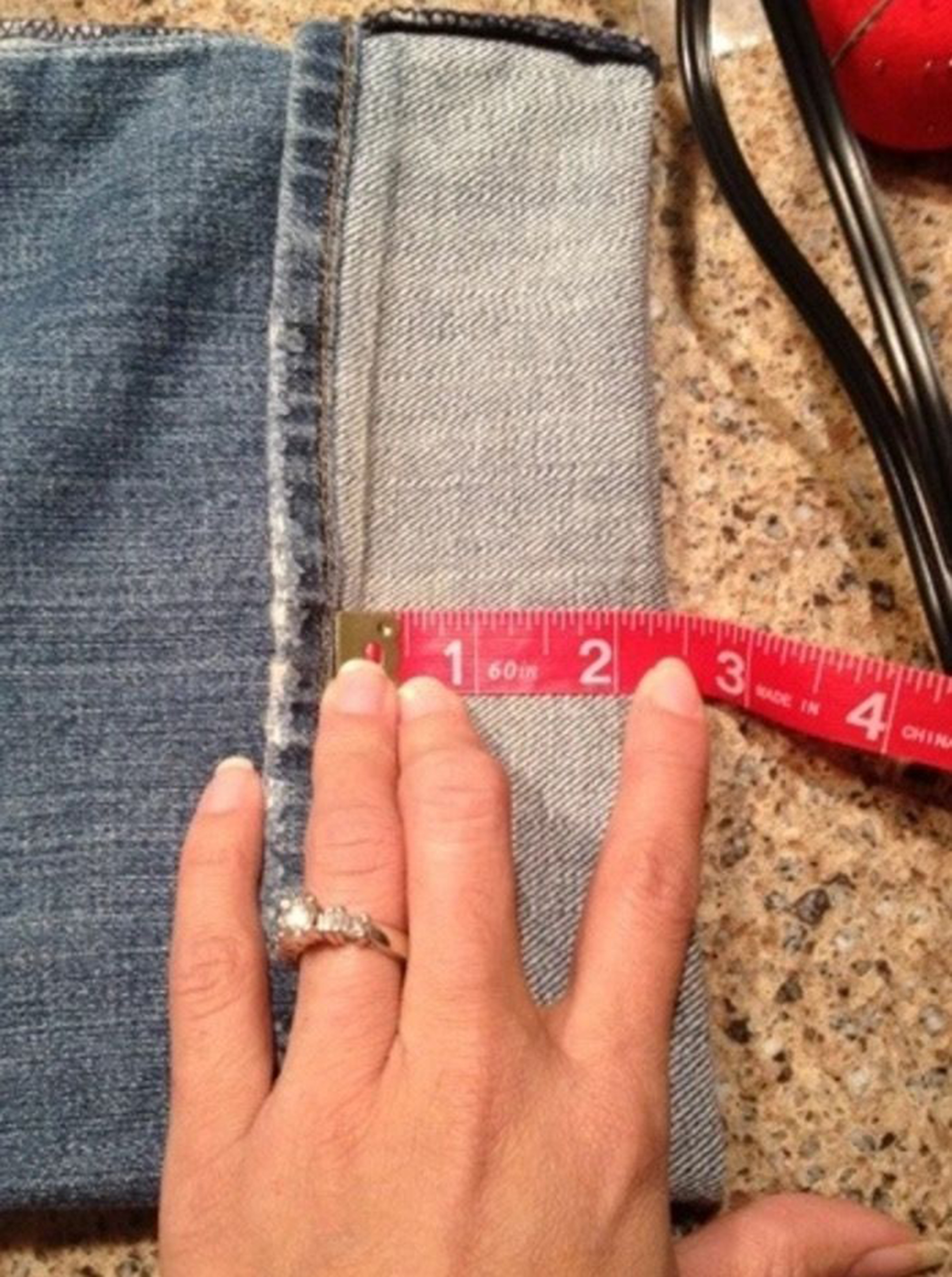 You must learn how to hem your jeans in a way that no one even notices it. You will get it altered all by yourself and it wouldn't look like anyone touched it.
4. Learn Some Stitching.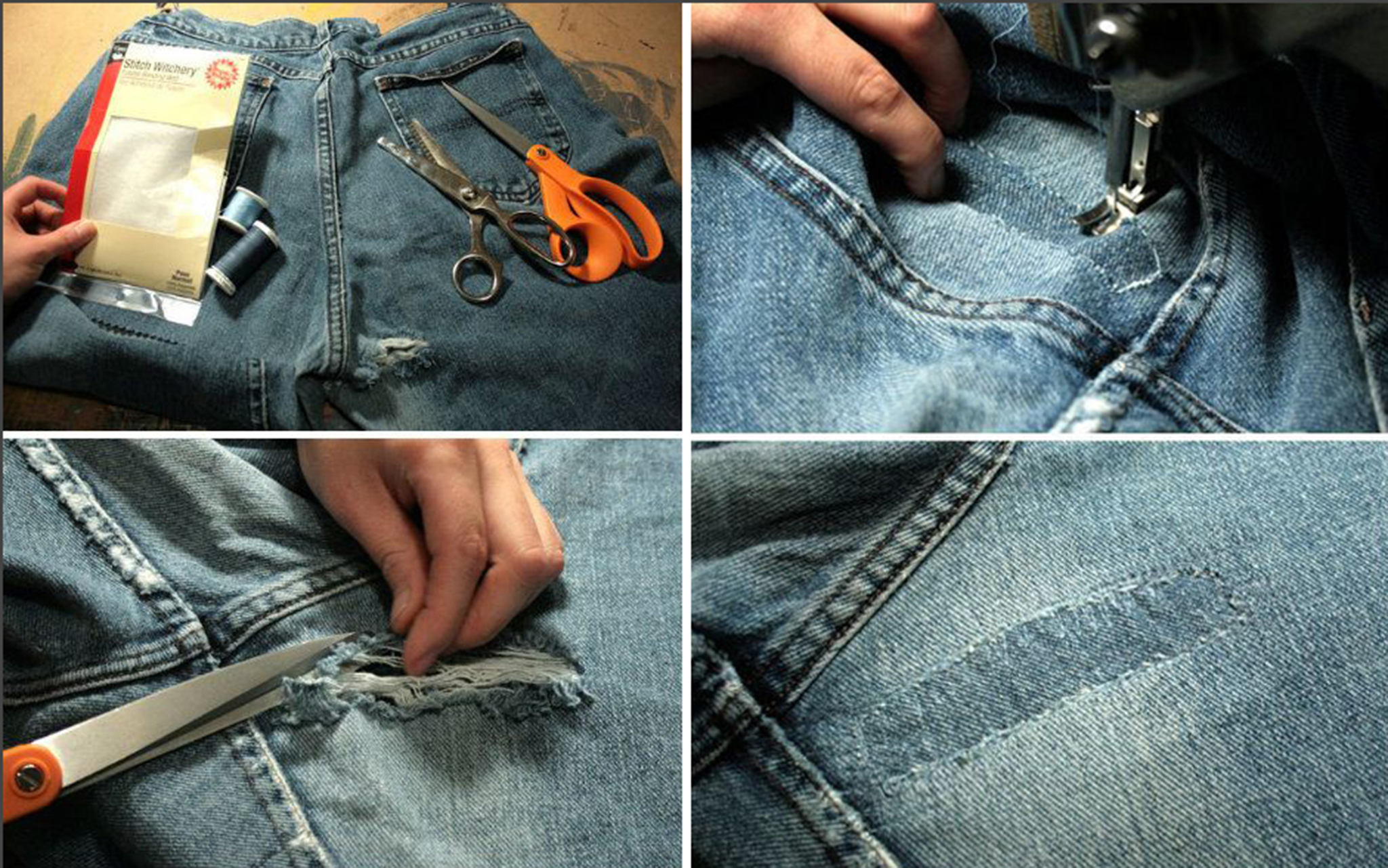 It is easy to stitch using new hand machines. It would be easier to fix the holes in your denim jeans, if you stitch a patch around it. You don't need to throw away your jeans, after all!
5. Attach An Elastic.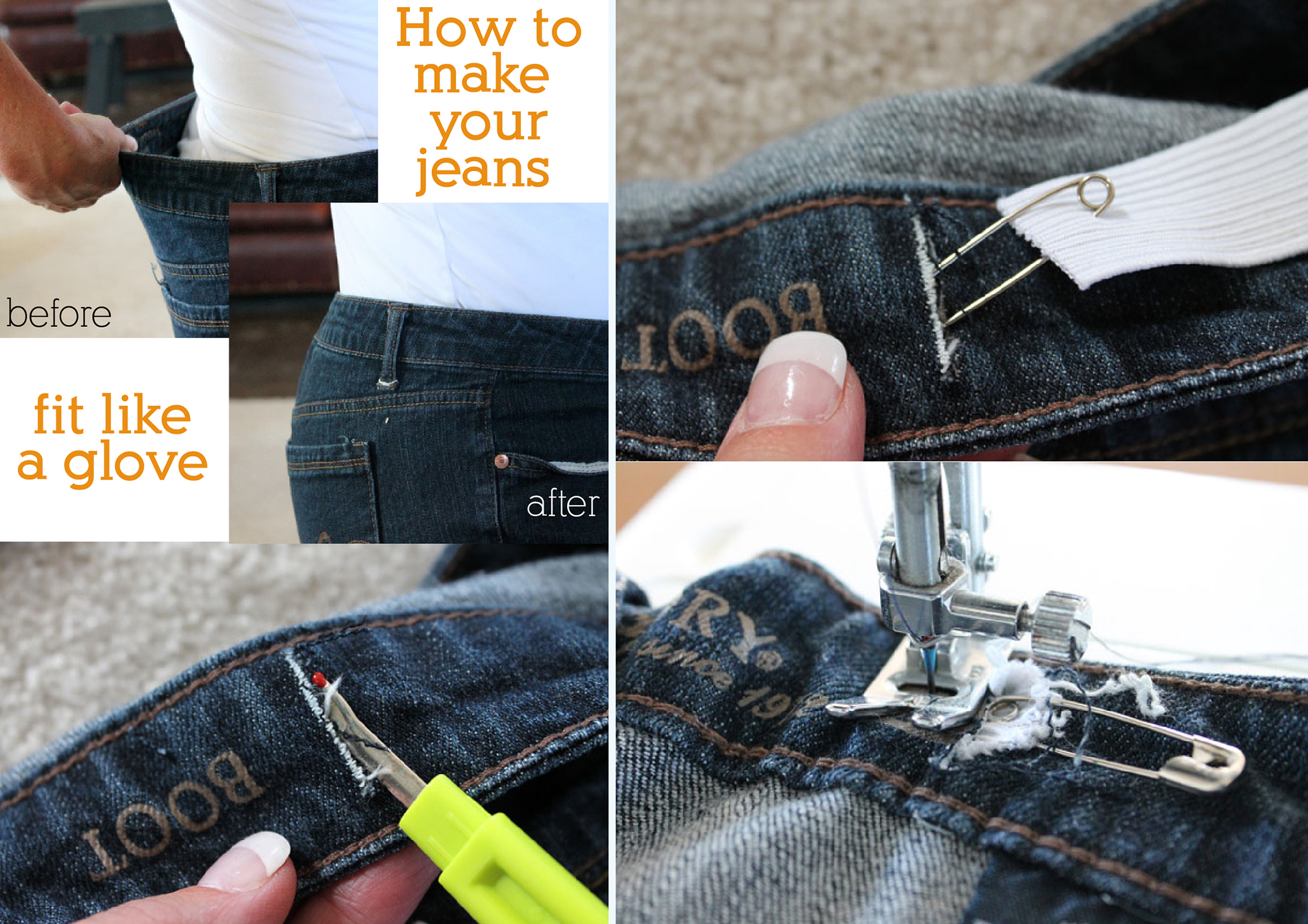 As it is shown in the picture, you can easily attach an elastic on the back side of your denim jeans and make them tighter. No one wants to wear belts these days, anyway. Also, because belts don't look as good as this would.
6. Wear Lace Tights.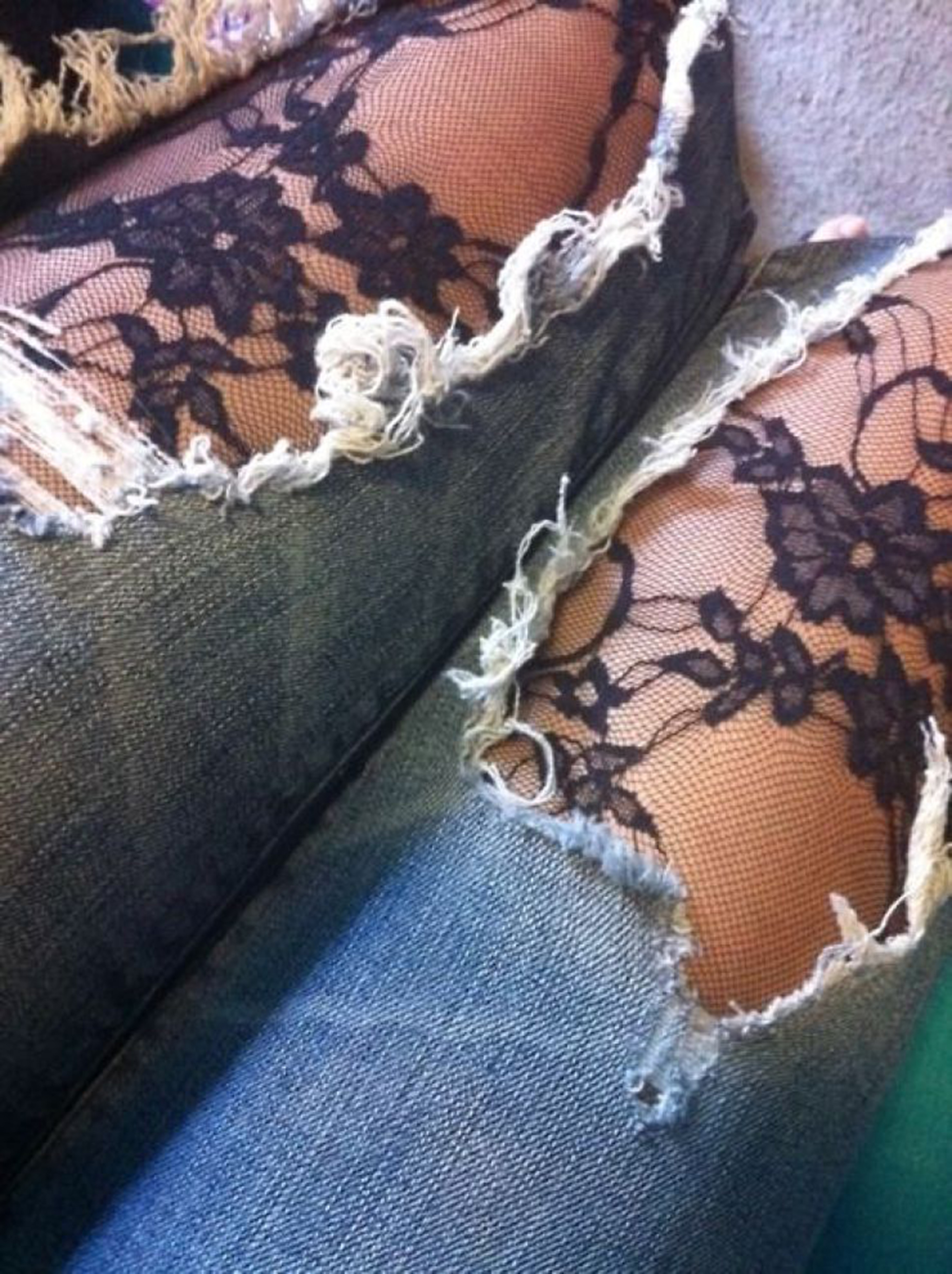 You don't need to throw away your jeans, if the holes on them are too big for you. Rather, you can style it up by wearing black lace tights beneath it.
7. Distressing And Coloring.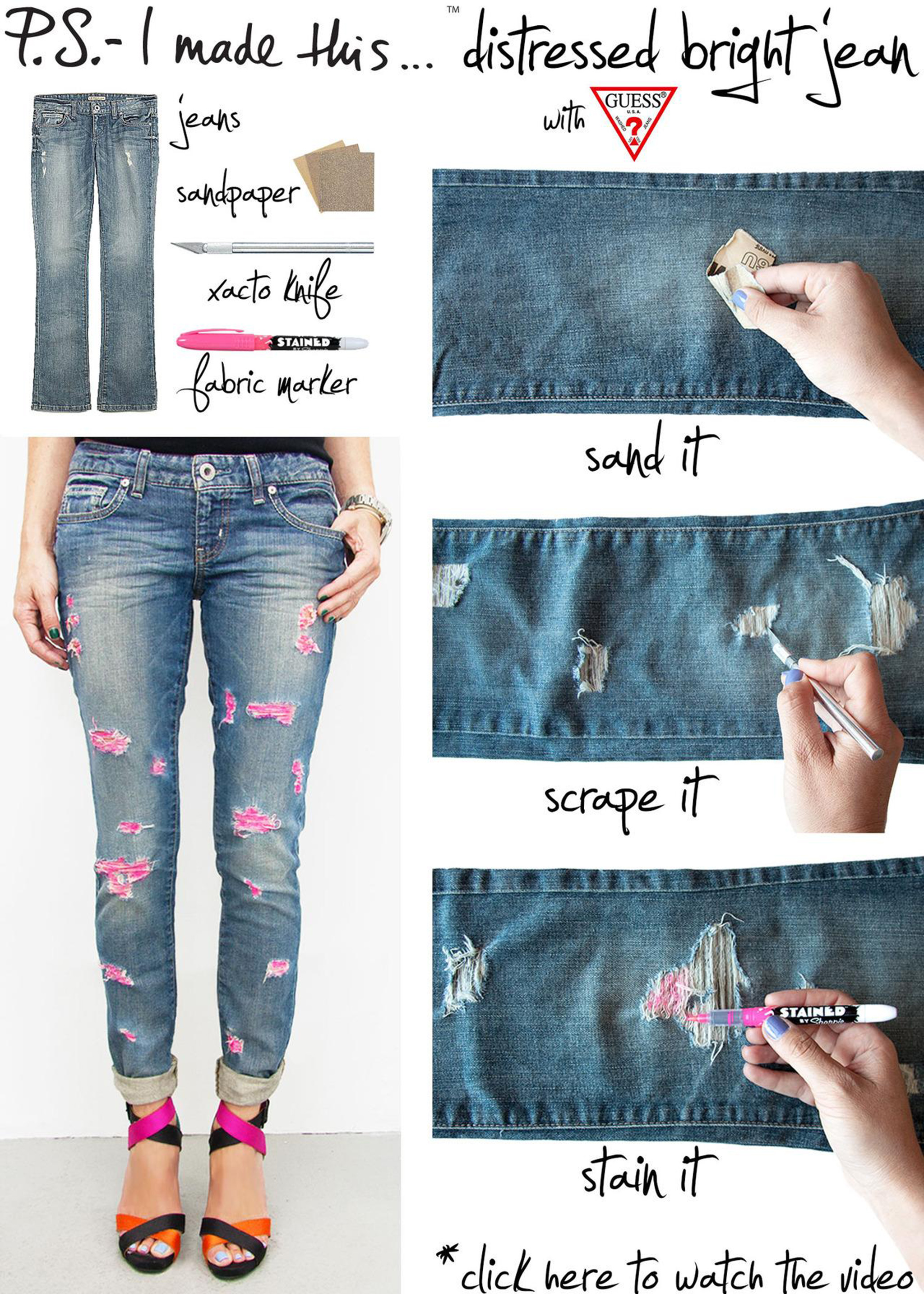 You can create your own ripped jeans now. First you need to fade a bit of color by rubbing it using sand paper and then, scrape it using a pencil knife. There are fabric markers available in the market which you can use to color the scrapes too!
8. Are Your Jeans Too Short, try this Brilliant Denim Jean Hack?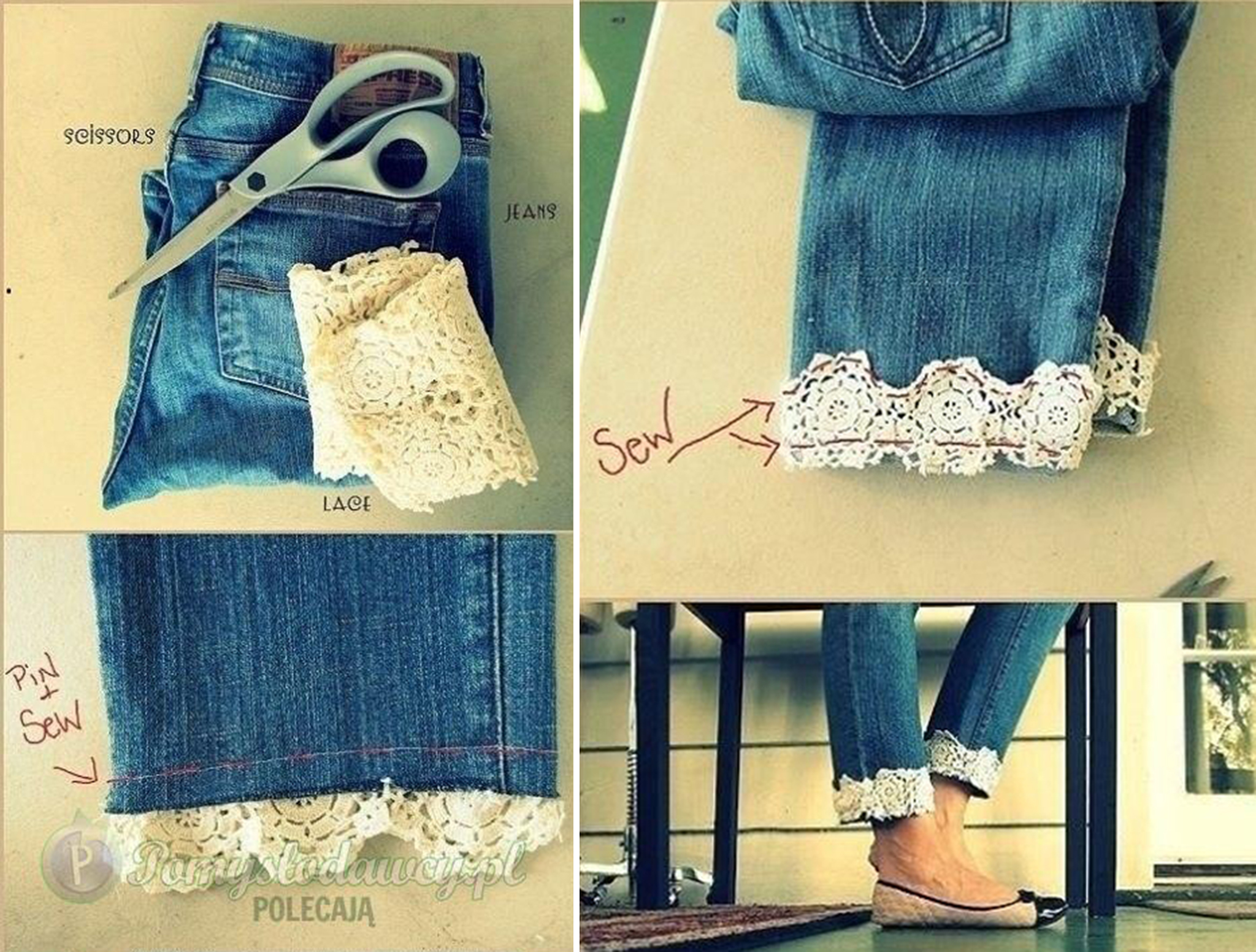 If you prefer, you can always attach some lace at the end of your jeans and make them look trendy.
9. Hang Your Jeans with this denim hack.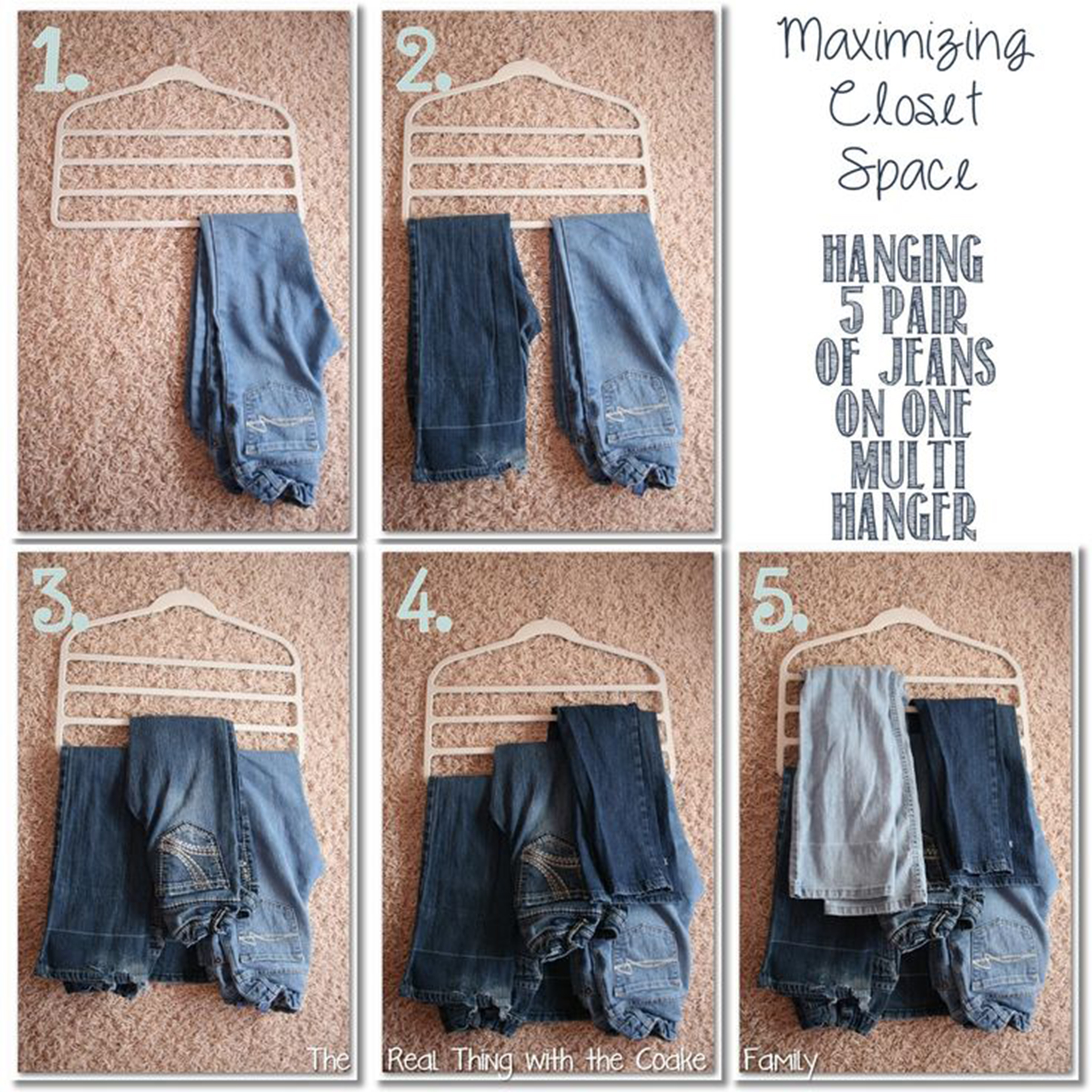 Jeans often take a lot of space in your closet. You can avoid this by buying a multi hanger and then hanging all your jeans on it, thus making up space inside your wardrobe.
10. Shoes And Jeans.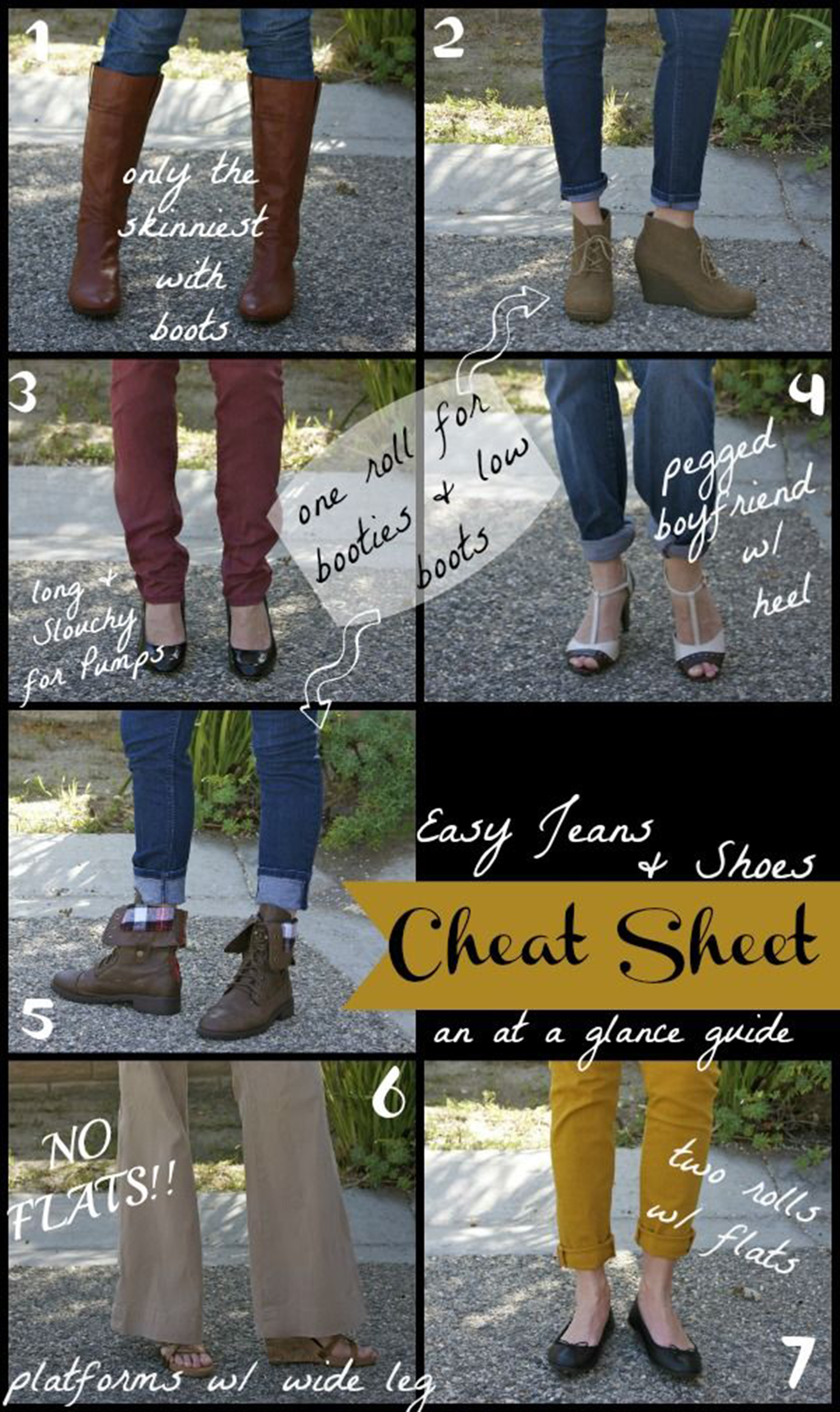 Not all jeans go with all types of shoes. Rather, you need to pick both of them, wisely. Only skinny jeans work well with long boots. Next, only one roll is required for pairing them up with boots or booties. If you are wearing heels, fold them up the boyfriend style, that is, two or more folds. If you are wearing pumps, let them be long and slouchy. Baggy jeans look good with only platforms and when it comes to wearing flats, they look good if your jeans have two rolls.
11. Start Getting Ripped.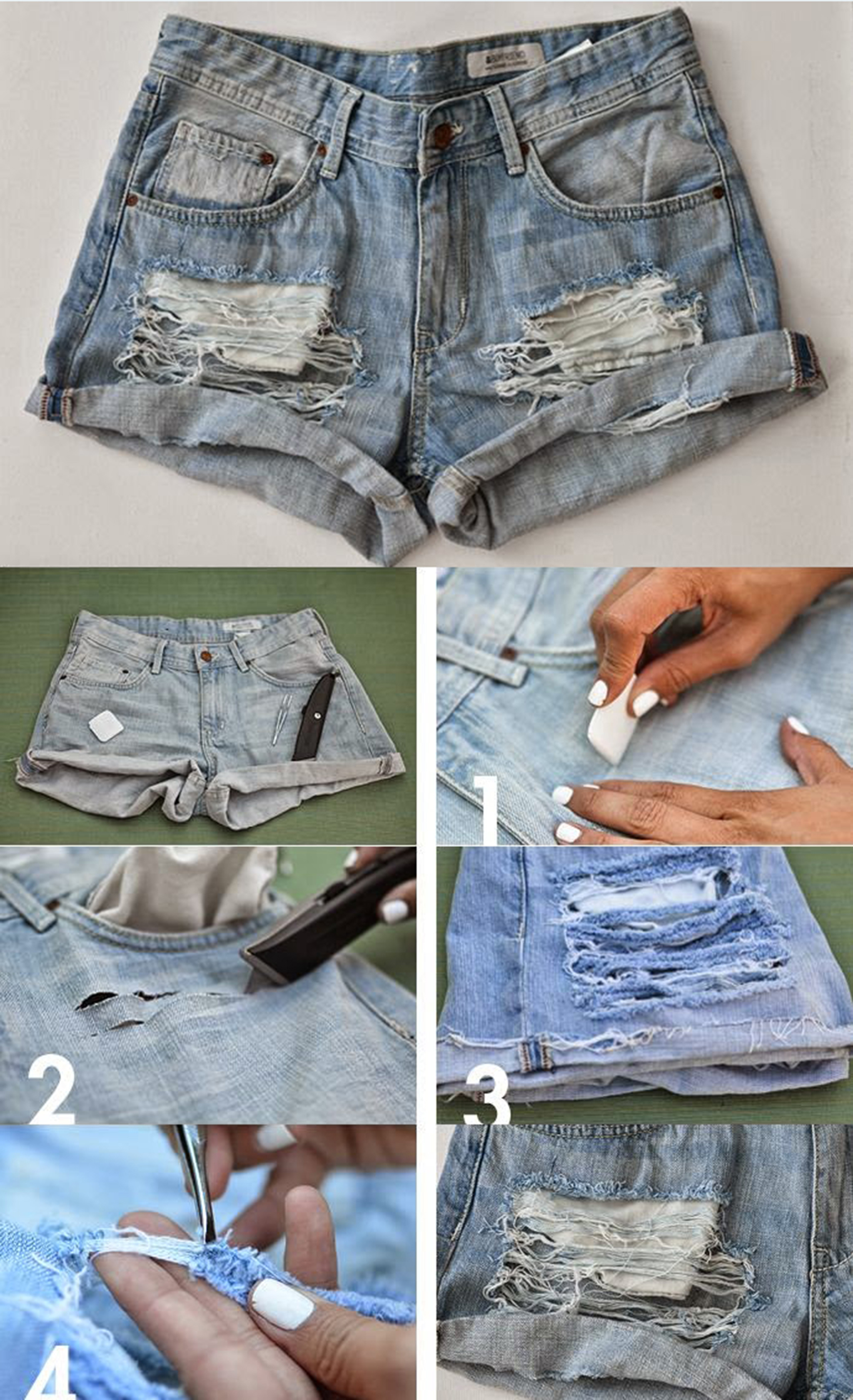 Get back into fashion and scrape your jeans using a stone and Xacto knife. There is no other way to look trendier! Hope you Like these Brilliant Denim Jean Hacks. Thanks for reading.